To counter these mundane and simultaneously unprecedented months, we've put together a selection of the most extraordinary, once-in-a-life-time, 'must do' activities available when travel resumes, which you can start planning for now...
1. See the Northern lights
The Aurora Borealis is one of nature's most spectacular sights, seeing the winter sky transformed, a shimmering, iridescent curtain of green dancing across the firmament. Although sightings are never guaranteed, a handful of cruise itineraries travel the Norwegian Coast where the darkest skies can reveal the most dazzling of shows. Hurtigruten regularly operate through the winter and Seabourn's new expedition ship, Seabourn Venture, will offer the chance to witness the spectacle during winter 2021/22.
2. Track polar bears in the wild
There are few experiences that can compare to the moment you first see a polar bear in the wild. A tinge of yellowish blonde against a background of white, its scale almost impossible to grasp amongst the vastness of the Arctic landscape. Manoeuvring closer, under the direction of an experienced expedition team, seeing these powerful animals in full view is a humbling experience. The Norwegian archipelago of Svalbard is the best place in the world to see polar bears in the wild and many of our expedition cruise partners spend summer there, when the ice conditions are most favourable.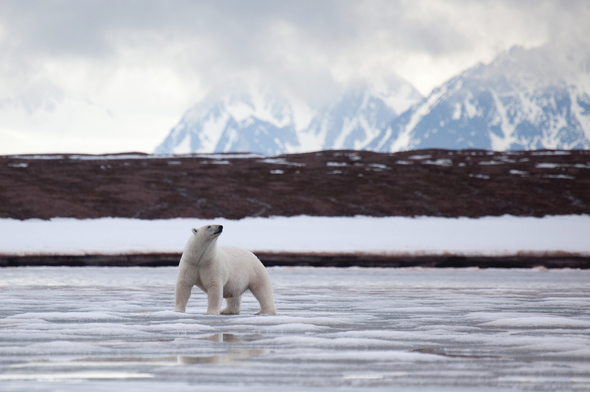 3. Walk amongst penguins
The speed and agility of a penguin in the water is incredible, making their almost comical waddling ashore all the more endearing. Walking through a vast penguin rookery is like being in an Attenborough documentary, with the sound of nesting pairs calling to each other and the possibility of them passing just inches away from you, totally unafraid. Visit Antarctica, South Georgia and the sub-antarctic islands of Australia and New Zealand for the biggest concentrations.
4. Dive with whale sharks
Submersing yourself in the warm waters of Arabia or South East Asia and seeing the vast blue green shadow of a whale shark come into focus is exhilarating. You'll feel like an alien intruding into another world, and diving with whale sharks is a privilege only enjoyed by a few. Discover Qatar are operating 10-night itineraries with Ponant between March and May 2022 to give just this opportunity, or you can sail aboard the tiny luxury vessels Aqua Blu or True North, which both offer diving in Indonesian waters.
5. Camp in Antarctica
The sense of remoteness in Antarctica is so great that you'll feel like you're on another planet. The untouched landscape appears before you exactly the same as it was for the great explorers of the 'Heroic Age' of Antarctic exploration. Leaving the comfort of your ship to camp overnight gives you an even greater sense of what those pioneers experienced here, and is available when travelling with Hurtigruten, Aurora Expeditions and Quark Expeditions.
6. Go whale watching
The Sea of Cortez is famed for its huge numbers of dolphins, sea turtles, blue whales, orca, humpback, pilot and fin whales, whale sharks, manta rays and sea lions, and was described by Jacques Cousteau as 'the world's aquarium'. Just across the Baja Peninsula is Magdalena Bay where, from January to March, inquisitive grey whales visit to calve, making it the world's best whale watching destination. Visit with Aurora Expeditions, Scenic, Lindblad and UnCruise, who all have itineraries focused on the area.
7. Heli-hike in Greenland
Equipped with two twin-engine helicopters, Ultramarine, polar specialist Quark Expeditions' forthcoming new ship, will offer an amazing array of innovative excursions. You'll be able to visit glacial lakes high in the mountains, set foot on the vast Greenland Ice Sheet and hike in regions that would otherwise be inaccessible, providing spectacular views and a true sense of expedition.