I travelled with Quark Expeditions, who include a compulsory transfer package with a one-night pre-cruise stay in Oslo and then a charter flight solely for their ship's guests to and from the ship in Svalbard. Flying out early from London allowed me to revisit the stunning city of Oslo for the afternoon, easily reached by train from my airport hotel. After an early alarm and check-in for the Quark charter flight to Longyearbyen, it was a further three hours' flying time from Oslo (my first realisation of just how far north we would travel).
Arrival at the very small airport building in Longyearbyen was easy and we were whisked straight off to the ship, close enough that we could actually see it from the runway. The first experience of the Arctic wind built more excitement about what the next five nights would hold for us all on board Quark's newest expedition ship, Ultramarine.
Ultramarine launched in 2021 and has been purpose-built for the polar regions, offering real comfort while exploring these remote wilderness areas. She can carry up to 199 guests, ensuring that an intimate and in-depth experience is had by all, and offers a range of staterooms and suites which include popular sole occupancy single bed cabins.
Once on board we all took some time to navigate our way around, from the Ready Room on Deck 2 to the expansive views from the Panorama Lounge on Deck 7. It was very easy to find your way around and nothing was too far away, a benefit of the small ship experience.
We were kitted out with our included Quark Expeditions parka jackets and loaned boots ready for the first adventure the next morning, but immediately after our first evening meal we discovered we would not have to wait that long!
A discreet and quiet communication was made on board to announce the presence of a polar bear strolling on the ice to the forward of the ship! A dash for my jacket and camera was followed by an hour of just observing this magnificent animal, which set the tone for the next few days. It was easy to forget the time, as the midnight sun can really disorientate you at times.
Over the course of the five-day voyage we were so incredibly lucky to spot nine polar bears (we were told this was rare and certainly appreciated our good luck) along with sightings of Arctic walrus on a couple of occasions, and their relative the bearded sea lion. We also saw many different species of bird, although sadly we were a little too early for the returning puffins in mid-May.
We viewed the wildlife from the many vantage points of this very well-designed ship, with plenty of space for every guest to find a spot to stand and admire. Ultramarine boats the latest dynamic positioning technology, ensuring she can offer stable and reactive positioning to enhance your experience, and this avoids having to use the anchor and damaging the sea floor.
With any polar expedition cruise it is important to understand the need for flexibility in your itinerary. The weather can change quickly, and the cruise lines have to react where needed. During my time on board our suggested next day landing sites were changed on a couple of occasions due to sea ice conditions or wind, but this was never an issue, and some of the wildlife we witnessed was thanks to these last-minute changes!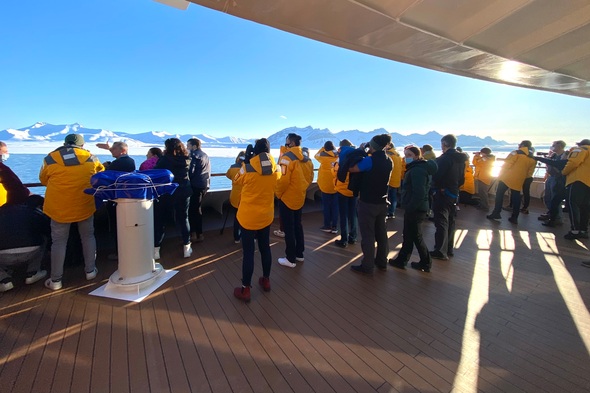 The season for the Arctic runs from May to September. For cleaner snow and more visible sea ice the earlier the better; if you want to experience the pretty flora and easier hiking, then later in June/July would be best. Most full circumnavigation cruises of Svalbard will be mid- to late summer when the northern sea ice has receded, making for a clearer passage around the north of the islands.
Something we are always asked about by our clients travelling to the polar regions is what to wear. The simple answer is layers; you need to be comfortable, and being able to remove layers is essential, especially when you're on a guided walk or hiking at a landing site. A good base layer, then a fleece layer followed by your parka double layer jacket will keep you nice and warm. Good gloves are also very important, and they must be waterproof and windproof too. A good warm hat and reflective sunglasses should also be on your packing list!
Finally I have to mention the 'Polar Plunge'. This is not for everyone, but in my opinion it's a must-do while on any polar expedition. I overcame all of my fears to make the jump from the pontoon on the aft of the ship into the chilly Arctic waters, and was welcomed back on board with a warming shot of vodka and round of applause from all around, a real team effort.
The Arctic is great for either a first timer to expedition cruising or those who have experienced it before and want to see the magical polar bears in their natural habitat. It's likely that this is already on your bucket list, so make sure it is one of the next things to be ticked off!
Get your free Arctic guide
Our expedition cruising guide to the Arctic will tell you everything you need to know, including when to visit, what to see and how to get there.