The first decision - to cruise or not to cruise? - is an easy one. While it is possible to plan a land-based holiday in the Galapagos, you are restricted to just four towns with hotels, and you'll have to take day trips by boat to reach the best wildlife areas. Touring the Galapagos on an expedition cruise ship, on the other hand, allows you to reach the more remote and pristine islands, travelling in comfort and accompanied by expert guides.
The next consideration is your itinerary. There are two routes that most ships follow - the Western and the Northern (or Central). On the Western route you'll visit the geologically younger islands of Fernandina and Isabela, while the Northern route will normally include outlying islands such as Española. Wildlife is a key factor when choosing your itinerary, as some species are limited to certain islands - for example, Española is the only place you'll see albatross, while the westernmost islands are the place to see Galapagos penguins. The time of year can also have an impact on what you'll see.
The final decision is which ship to choose, and you may be surprised to discover that most cruise lines don't operate in the Galapagos. Visitor numbers are strictly controlled, and cruise lines that operate here must do so through an Ecuadorian subsidiary. The National Park restricts landing sites to 100 passengers ashore at any one time, so no ship exceeds this number. All operators must have at least 1 guide per 16 passengers and all guests must be accompanied by a guide when ashore. We always recommend a slightly larger vessel (between 50-100 guests) as you'll have more than one guide, a range of activities to choose from and more space and comfort on board.
The newest ship in the Galapagos is the 100-guest Celebrity Flora, launching at the end of June 2019, with innovations including 'glamping' under the stars on the ship's deck. However, we think it's worth waiting for the arrival of Celebrity Flora's 'sister from another mother', Silver Origin.
Most readers will be aware that Silversea, like Celebrity, is now part of the Royal Caribbean family, and Flora's sister ship will join the Silversea fleet in 2020, replacing the ageing Silver Galapagos. Silver Origin will combine Flora's high-tech hardware with Silversea's trademark personalised approach, including butler service for every suite. Silversea also promise the highest crew-to-guest ratio in the Galapagos, and eye-catching features such as an outdoor firepit.
If you would prefer something a little smaller then Lindblad Expeditions' 48-guest National Geographic Islander is a great choice. Travelling on board this nimble twin-hulled vessel is akin to being on your own private yacht, and the ship is equipped with an impressive array of 'tools for exploration', including kayaks, zodiacs, an underwater cameraman and even scuba diving equipment on selected voyages.
We would always recommend spending at least a week in the Galapagos, but shorter itineraries are also available. Ecuadorian company Metropolitan Touring operate four- and five-night cruises on board their trio of intimate vessels, offering a more affordable way to see the Galapagos, as well as more flexibility to slot a Galapagos cruise into a longer land-based South America itinerary.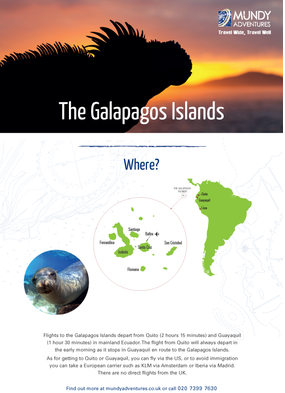 Get your free Galapagos guide
Our Galapagos guide contains everything you need to know about these wonderful islands, including when to visit, how to get there and where to spot the archipelago's most iconic wildlife.