Western Australia doesn't get much of look-in versus its East Coast counterparts - but travelling to the Kimberley region by small ship allows you to appreciate its incredible wilderness from a whole other perspective, sailing in areas otherwise inaccessible by larger ships.
We recommend visiting between March and October for the spectacular Staircase to the Moon illusion, when the full moon coincides with low tide at Roebuck Bay, with April and May generally the best time to visit the Kimberley for the full force of the waterfalls post-wet season.
Most Kimberley cruises begin or finish in Broome, the centre of the 17th-century pearl rush, among white sand beaches and dramatic sunsets. Tropical Darwin is another popular embarkation or disembarkation point, and either city makes for an excellent gateway to further Australia exploration pre or post-cruise - including the incredible Bungle Bungle range.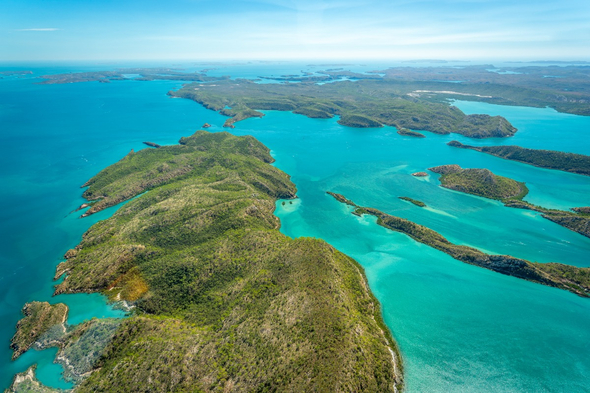 The Hunter River region is a key port of call for all Kimberley cruises in Australia, where mangrove-lined rivers encased by those iconic red sandstone cliffs teem with mudskippers, fiddler crabs, saltwater crocodiles and a myriad of bird species. Along the way, you'll call in to the stunning emerald pools of Mitchell Falls and one of the world's most unusual natural wonders, the 'Horizontal Falls' at Talbot Bay.
For those who wish to go further afield, look to voyages that visit the Litchfield and Kakadu National Parks - the latter's iconic scenery of rugged escarpments, Aboriginal art and huge wetlands even served as the backdrop to the film 'Crocodile Dundee'.
For wildlife enthusiasts, many expedition cruises to the Kimberley also sail to Montgomery Reef, once described as the 'Eighth Wonder of the World' by Sir David Attenborough, where wildlife including turtles, sea birds, sharks, octopuses and even dugongs reside. The Lacepede Islands - situated just off Australia's Kimberley coast - are just as spectacular, home to over 1% of the world's population of brown boobies and roseate terns and a key breeding site for green turtles.
Read below for the five best cruises and cruise lines for visiting the Kimberley region in Australia:
Australian-owned Scenic is among the best cruise lines for exploring Australia's Kimberley coast, with 10-day itineraries designed to make the most of the region, including stops at the remote Buccaneer Archipelago, made up of 800 islands scattered along Australia's Kimberley coast that are virtually untouched by humans. Lucky guests will experience all the delights of brand-new ship Scenic Eclipse II, Scenic's second discovery yacht. Building on the technological advances of the original Scenic Eclipse with what is set to be one of the world's most advanced expedition ships, Scenic Eclipse II passengers will delight in the perfect combination of luxury and adventure, with helicopters, lecture programmes with expert naturalists and zodiac rides perfectly complemented by butler service, a new sun deck pool and a range of luxury dining experiences.
French cruise line Ponant has recently rolled out six sleek new yachts, named 'the Explorer class'. With each vessel carrying just 184 guests, they're the ideal base for Ponant's exciting 10-night Kimberley cruises in Australia, with a refined ambience that pairs a modern super yacht and nautical tradition with a French flair - evident in the top-notch service and superb dining on board. The three-position hydraulic decks on the back and Blue Eye underwater lounges are just some of the incredible innovations on these environment-conscious ships, perfect for wildlife spotting on board and getting out into the wilderness for hikes and zodiac rides.
Operated by the small Silver Explorer this year before the ship leaves the fleet, and the larger Silver Cloud next year, Silversea Expedition's cruises to the Kimberley begin or end in Darwin, Cairns, Fremantle or Broome, with some mixing in stops to remote Indonesian islands, giving you an even further breadth of destinations to explore. On board, with just 254 guests, 18 zodiacs and Silversea's typical high level of service, this is truly one of the most luxurious expedition ships at sea. Think butler-served suites, exquisite dining - from fine French fare to authentic Italian - and an enormous array of incredible, included excursions that showcase the region at its best.
Seabourn's 10-day Waterfalls & Windjinas itineraries are the perfect showcase of the Kimberley region. Seabourn's Kimberley cruises are hosted on the incredible Seabourn Venture, to be followed by sister ship Seabourn Pursuit later in 2023, and pair veranda-suite accommodation with high-tech gadgets like six-seater submarines. An experienced expedition team guides you through each adventurous day with onboard lecture programmes and zodiac trips, while the refined restaurants and open-bar policy ensure a sophisticated feel.
For a truly authentic Australian experience, True North, based in Broome, is one of the best small ship cruises to Australia's Kimberley region. The launch of its new ship True North II, purpose-built to sail among the heart of the Kimberley's wilderness, sees an even more intimate approach - carrying just 22 guests versus first ship True North's 36. Those on board can expect a laidback style with a touch of luxury, with its own onboard helicopter and six dedicated small expedition boats allowing you to get even closer to the action. A luxurious sundeck, al fresco bar and ultra-fresh, local fare welcomes you back on board after days spent on scenic walks, helicopter flights, fishing and snorkelling, with excursions centred around indigenous art, huge waterfalls and the incredible tidal changes at Montgomery Reef.