All of our expedition partners offer a welcoming atmosphere for adventurous travellers, but there are a few that really stand out as being particularly well suited for those travelling solo. Here are our top six recommendations:
Silversea's varied expedition fleet offers a fantastic amount of choice for solo travellers. Silver Origin has been purpose-built for sailing the Galapagos, treating just 100 guests to the most luxurious experience of any vessel sailing the islands. 144-guest Silver Explorer is about to leave the fleet, and instead the focus on polar travel will be on board the latest expedition ship in the fleet, 200-guest Silver Endeavour, with PC6 ice class capabilities and state of the art technology that allows for access to some of the most remote locations of the globe, and the larger Silver Cloud, formerly part of Silversea's 'classic' fleet, operates a range of itineraries including both cold and warm water expeditions for 260 guests (limited to 200 in the polar regions).
Silversea's low single supplement policy for guests travelling on their classic cruises is extended to these expedition vessels, with solo supplements of between 10% and 25% often available on selected sailings. When travelling with Silversea you can expect an ultra-luxury experience on board spacious small ships, with a hint of Italian style-hospitality, and a cosmopolitan and sophisticated passenger mix makes meeting fellow travellers easy. There is also a welcome Champagne reception for those travelling independently aboard every voyage.
Polar specialist Quark Expeditions has been operating for nearly 30 years, chartering ships for voyages in the Arctic and Antarctica, and their vessel Ultramarine, Quark's first ever new-build, is equipped with two twin-engine helicopters and offering an amazing array of innovative excursions.
Solo Panorama cabins are 132 square foot rooms designed specifically for solo guests, with floor-to-ceiling windows offering sweeping sea views - an indication of how welcome solo travellers are on board; they offer frequent Solo Traveller Deals with no single supplement charges. Solo cabins are available on board Ocean Diamond, and you can also avoid paying a single supplement when taking a twin cabin for sole use with Quark's request-share programme, which matches solo travellers of the same gender who are willing to share a room. Should a roommate not be found then the single supplement is waived, so it's a risk-free way to save for adventurers who travel solo. Call us to find out which sailings are part of the programme.
Hurtigruten's fleet ranges in size from 318 to 822 guests, operating two distinct programmes. Their Norwegian Coastal service has linked towns and villages along Norway's west coast for nearly 130 years, carrying mail, passengers and vital supplies. More recently, Hurtigruten have launched an expedition programme travelling further afield, to destinations including Antarctica, Greenland and Svalbard.
Hurtigruten's newest ships, MS Roald Amundsen and MS Fridtjof Nansen, are the first in a new generation of pioneering hybrid-powered vessels, offering a more sustainable way to explore the polar regions. These ships carry 530 guests, limited to 500 in polar waters, which is relatively large for an expedition vessel, allowing Hurtigruten the flexibility to offer 0% single supplements on a number of sailings, usually for a limited booking window. Call us for details of their current offers.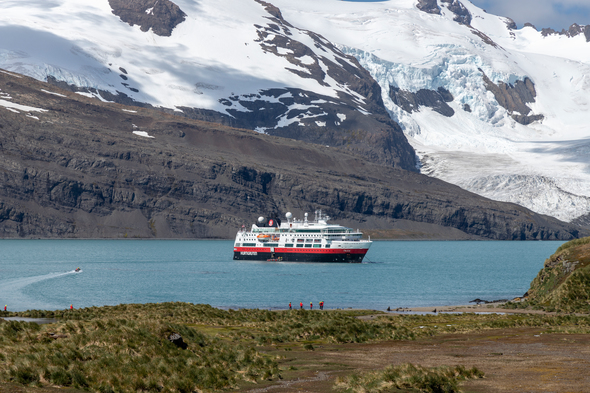 Lindblad have an excellent reputation in the expedition cruise sector, as well as a long-standing partnership with National Geographic, and travel to destinations including the Arctic, Antarctica, Alaska, the Galapagos, Central America, the Amazon and Baja California. Their ships accommodate between 48 and 148 guests, and are packed full of tools for exploration, including zodiacs, sea kayaks, underwater cameras, onboard naturalists and, on some, a National Geographic photographer.
The atmosphere on is sociable and welcoming, with a shared spirit of adventure among the predominantly American clientele. There are nine dedicated single cabins on board the National Geographic Endeavour II, which cruises year-round in the Galapagos, and Lindblad also run a very limited cabin share programme, where you pay the per person double occupancy fare even if the cruise line isn't able to find a roommate to share with you. This is usually only offered on less popular voyages, such as ocean crossings where the ships are repositioning from one area to another; please call us for a full list of sailings.
Ultra-luxury line Seabourn's two newest expedition ships, Seabourn Venture and Seabourn Pursuit - launched in 2022 and 2023 respectively, are the perfect choice for a solo expedition cruise, combining authentic service and intimate, yacht-like ships.
Seabourn offer several reduced single supplements on their expedition voyages to Antarctica, the Arctic, South Pacific, and Australia's Kimberley Coast. Call us for details of specific solo savings.
French cruise line Ponant are perhaps best known for their luxurious icebreaker, Le Commandant Charcot, that will travel through Antarctica in winter 2023/2024 and the Arctic in winter 2024/2025. They also have six other expedition ships - Le Champlain, Le Laperouse, Le Bougainville, Le Dumont d'Urville, Le Bellot and Le Jacques Cartier - that are pioneering leaders in their field.
Ponant offer "no single supplement" cruises in the comfort of a double cabin on more than 100 departures, from Madagascar and Antarctic to the islands of the South Pacific. Call us for details on specific departures.