Head off the beaten track and see polar bears in their natural environment, snorkel with sea lions in the Galapagos, wander amongst penguins in Antarctica, or kayak majestic fjords in Alaska. You'll travel on board small, specialist ships that offer the perfect balance of sociability and space - for children, parents and even grandparents. On board kids can never wander far, but they're also able to explore their own interests. Days are full of active adventures, tales that can be retold over dinner in the restaurant or drinks in the lounge. And you'll be travelling with the reassurance of being guided safely through the wildness by a team of destination experts.
Most expedition ships have rooms and suites that can accommodation a third or fourth person, and many have interconnecting options, though due to the adventurous nature of this type of trip, cruise lines typically require children to be around 6 years or older. Some expedition lines also offer specific programmes for young explorers, making them particularly suitable for family travel. Here are four of the best options:
Hurtigruten's fleet operates two distinct programmes - the classic Norwegian Coastal Voyage service, and expedition cruises further afield - and their ships cater for between 318 and 970 guests. This is considered quite large in expedition ship terms, and with the extra space comes more facilities and places for younger travellers to hang out.
Hurtigruten offer a complimentary Young Explorers programme year-round on selected ships, aimed at active children between 6 to 12 years. This makes it easier to meet other kids on board, and it's designed to be educational, with topics including nature, climate change and culture. Depending on seasons and destinations, topics like wildlife, local food, environmental protection and famous explorers (with a focus on the line's Norwegian heritage) are also covered.
MS Finnmarken offers the programme on its Norwegian Coastal Voyages, a service that has linked towns and villages for nearly 130 years and which still carryes mail, passengers and vital supplies to remote communities along the Norwegian coast. On board there is a dedicated host who plans and organises the activities, an activity centre for lectures and activities with the expedition team, plus a heated outdoor pool, hot tubs, choice of three restaurants, lounges and an observation deck. Two of the Expedition Suites sleep up to four people, with the Grand Suite offering a separate lounge area for extra sleeping space. Additionally, two of the Polar Outside rooms interconnect.
The newest ships in Hurtigruten's expedition fleet, the pioneering hybrid vessels MS Roald Amundsen and MS Fridtjof Nansen, both offer the Young Explorers program. These ships carry 530 guests, limited to 500 in polar waters, and visit Antarctica, Alaska, Greenland and the Arctic. Core to the onboard experience is a science centre ideal for inquisitive minds. This flexible venue includes lecture spaces, a small library and special areas for workshops in photography and biology, packed with state-of-the-art technology and gadgets. Here the expedition team are always on hand to help you and your family get the most out of the trip.
The indoor/outdoor observation deck features an infinity pool and hot tubs, and there is a choice of three restaurants, lounges and more. Rooms and suites across almost all grades can accommodate a third of fourth person, and a large number of the Polar Outside rooms also interconnect.
German outfit Hapag-Lloyd Cruises are one of the most experienced expedition lines in the business. Their innovative new ship, the Hanseatic Inspiration, features slick design with features that kids will love, including a watersports marina with equipment including kayaks, stand-up paddle boards and snorkelling equipment, and two extendable glass-floored balconies. Yes, the first language onboard is German, but the ship is designated bilingual, and the exciting programme for those aged 10 to 17 years will soon get them talking.
The programme is designed with teenagers in mind to encourage the curiosity of young explorers, whether it's with a spot of navigation on board, Zodiac rides, activities ashore, looking through a microscope, or learning about oceanography, geology and geography. The whole crew, from the captain to the navigation officer to the ship's cook, are all involved. Trips to the bridge offer insights into seafaring, including how to read nautical and bathymetric charts and using the radar and sonar. There are also cinema evenings complete with popcorn, pizza evenings and more.
The programme is available on selected sailings and a minimum of five children is required for the programme to run. Grand Suites and Junior Suites can sleep up to three people using a sofa bed, and several Balcony Cabins interconnect with the neighbouring cabin or suite.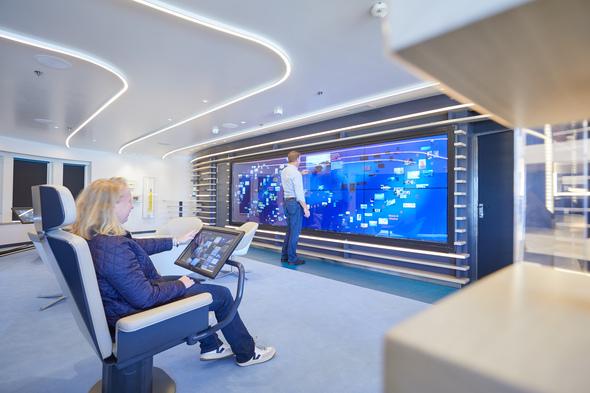 Lindblad boast one of the best reputations in the expedition cruise sector, along with a prestigious partnership with National Geographic, and will take you to destinations including the Arctic, Antarctica, Alaska, the Galapagos, Central America, the Amazon and Baja California.
Their varied fleet of small ships accommodate between 48 and 148 guests, and are equipped with tools for exploration including zodiacs, sea kayaks and underwater cameras. You'll also be accompanied by onboard naturalists and, on some voyages, a National Geographic photographer. Most vessels have rooms which can sleep up to three people and interconnecting options available.
Their Global Explorers programme, developed in conjunction with National Geographic Education, is available on itineraries in the Galapagos and Alaska. Kids and teens can enjoy a variety of educational activities, from earning an expedition landing craft 'driver's license' to recording wildlife sightings in their region-specific field notebook.
Activities available to all include snorkelling and tandem kayaks, both great for kids, and there are also kid-friendly menu options - the impromptu movie nights with pizza are particularly popular.
UnCruise Adventures specialise in off-the-beaten-track exploration of Alaska and the coastal regions of the Pacific Northwest, as well as Snake and Columbia Rivers, Hawaii and the Galapagos. As the name suggests, the aim is to provide something very different from the traditional concept of a cruise.
Ships range from small to tiny, and voyages combine active adventure - offering great opportunities to kayak, hike or explore by zodiac - with relaxed, unpretentious service and extensive knowledge of the destinations being visited, accompanied by local experts and enjoying exclusive (and inclusive) trips ashore.
UnCruise welcome kids aged 8 years and older and organise a number of family focused activities, including tide pool treasure hunts, polar plunges, paddleboard races, parent/child kayaking, snorkelling, flora and fauna identification, 'I spy' for whales and dolphins, and even face painting with glacial mud. Kids can also enjoy the hot tubs, games, kid-friendly DVDs and books available on board.
Several of the fleet offer triple cabins (Wilderness Discoverer, Wilderness Legacy, Safari Voyager, Safari Endeavour and Safari Explorer) and La Pinta, which operates only in the Galapagos, has triple and interconnecting cabins.