Nothing is typical about Le Commandant Charcot. Just prior to welcoming guests on board, there was a trial voyage - to the North Pole! Quite a test for this LNG/electric hybrid vessel, during which it surpassed all performance expectations, breaking through up to three metres of compacted ice and becoming the first French ship ever to make the journey.
I was lucky enough to join the ship in Le Havre for a trip to La Rochelle, a short two-night taster sailing as she began repositioning for her inaugural Antarctic season. Once on board it was clear that the 'hybrid' nature of the vessel goes beyond the propulsion system, combining levels of luxury and expedition previously unheard of. Stepping into a smart lobby akin to a chic city hotel, I found it difficult to believe I was on board a ship with polar capabilities closer to a Russian nuclear-powered icebreaker than a conventional expedition cruise ship.
As I walked around the ship it was immediately clear that what Ponant have achieved here is truly impressive. Famed French designers Jean-Philippe Nuel and Jean-Michel Wilmotte have created contrasting and complementing interior spaces that move from a striking polar-inspired colour palette of whites and blues, in areas such as the reception, equipment rooms, restaurants and observation lounge, to warmer, plush interiors in the guest accommodation and main lounge.
Public spaces are grouped together on decks 5 and 9, and there has been no compromising on the quality of facilities. Deck 9 is home to the stunning Blue Lagoon, a heated infinity-style pool arcing around the back of the ship and central fire pit. Here, heated seating keeps guests warm and cosy whilst travelling through some of the coldest places on earth. The large light-filled observation lounge at the front overlooks the helipad, where a single, four-passenger helicopter is used by the expedition and scientific teams on board to scout landing sites and aid research.
Nuan, meaning 'wellbeing' in Inuit, is the fantastic spa, with treatment rooms, a hair and nail salon, sauna with sea views and even a snow room. The connecting winter garden, Imaq (Inuit for 'water') is home to a lovely indoor pool, super comfortable relaxation area and detox bar.
On deck 5 the large theatre can accommodate all 245 guests, although passenger numbers are limited to 200 for Antarctica voyages. The main lounge has a stylish steam fire and extensive cocktail list for an evening aperitif, and we enjoyed entertainment from a fantastic guitarist and singer who wouldn't have looked out of place in a Parisian hotel. As well as the reception there is also a boutique, small photo suite, cigar lounge and the main restaurant, Nuna, which has menus created by Alain Ducasse showcasing Ponant's French culinary roots.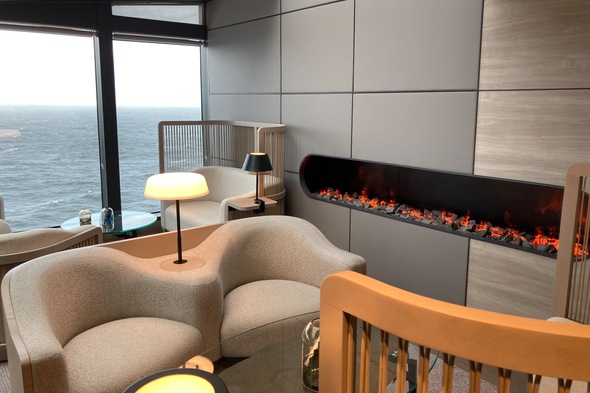 The 360-degree promenade deck has a heated floor to prevent ice forming and even has heated benches. Here you'll get fantastic views as you look out over the uniquely shaped bow, designed to mount the ice and then use the ship's weight to break through it, and the second bridge at the aft, used when the ship turns its engines 180 and uses the propellers to cut into the ice while reversing into it.
Various accommodation options are spread through decks 6, 7 and 8, all with balconies, with some grades varying only in their position. My Prestige Stateroom was small yet perfectly formed. Dark woods combined nicely with light cream furnishings, soft touch panelling and clever lighting, creating a modern and stylish feel. The toilet was separate to the bathroom, which had a sizable walk-in shower in dark stone, and a large glass screen looked out onto the bedroom, balcony and out to the horizon beyond, a helpful feature if you're sailing in rough seas. For the more modest among us, there is a sliding panel to ensure privacy.
If you're looking for more space, the Owner's Suite and Suite Duplex options at the aft are both exquisite. The vast Owner's Suite has a lounge area with faux fire, large bedroom and a huge bath, which all benefit from ocean views out over the expansive balcony (which also has a Jacuzzi). The Suite Duplex has double height floor-to-ceiling windows with a living area downstairs and bedroom on an upper mezzanine.
Hidden below the smart hotel spaces, the ship's innards reveal a staggering collection of expedition hardware. As well as the helicopter, which was hidden away in its hangar, there is also the Sherp, a Russian all-terrain vehicle which can be used on the snow by the expedition team to support guest excursions. It looked like something you'd see in a sci fi movie set on Mars, and I was stunned to learn that it actually floats!
There are two laboratories where scientists from around the world are invited to join the Ponant team to aid their research, and there is even an opening in the hull for taking sea water measurements no matter the ice conditions on the surface. Because it's so difficult to reach, the Arctic is an under-researched area, so Ponant's ability and willingness to support the scientific community is a welcome aid to better understanding the effects of climate change in the polar regions.
We were also shown the battery banks that power the electric Azipod engines, the LNG generators and the numerous safety features and various redundancies that allow this ship to go way beyond any other vessel. Another first that was highlighted, and used in the rather lumpy seas of the English Channel, was the huge stabilisers that reduce movement when cruising at sea, something no other icebreaker has.
The marine and bridge team explained the ship's operation to us in flawless English, and the ship's Captain, who lived for a time in London, conducted the Captain's address switching seamlessly from French to English. The rest of the staff are all bilingual, so I enjoyed a warm welcome when seated in the restaurants and lounges. Lectures were held in both French and English and all signage, menus and announcements cater to both French- and English-speaking guests.
Ponant are rightly very proud of Le Commandant Charcot. The uncompromising design has successfully combined an ultra-luxurious hotel with a hardcore expedition, a truly outstanding achievement.