Ponant's ships are an exceptional combination of chic design and technological innovation, with an emphasis on environmentally friendly equipment.
Smaller than the existing ships, the new Explorer class vessels accommodate just over 180 guests in a selection of sea view staterooms and suites, all with access to at least a French balcony. Décor is low key and elegant - blue, teal and cream abound, with lovely touches such as a leather panel for the door number.
The sleek Scandi-style design extends around the ship - pale woods, some slatted, some organically curved, and set off by striking individual carpets, and lots of glass and aluminium. Fabrics and chairs evoke rope and string, while wall hangings remind us of a sun-kissed beach with bleached shells and mysterious creatures.
I couldn't wait to take a look at the much fêted Blue Eye, the underwater lounge at the bottom of the ship. Access is by lift and staircase - a little claustrophobic, I have to admit. Once inside, you focus on the two portholes, shaped like the eye of a cetacean and looking out upon the subaquatic world. Integrated digital screens project the images filmed live by three underwater cameras. The unique sound design reflects the view, and the sofas themselves (known as Body Listening sofas) vibrate in unison with the sights and sounds. The effect is extraordinary - although not seen to its best on a murky autumn day on the Thames!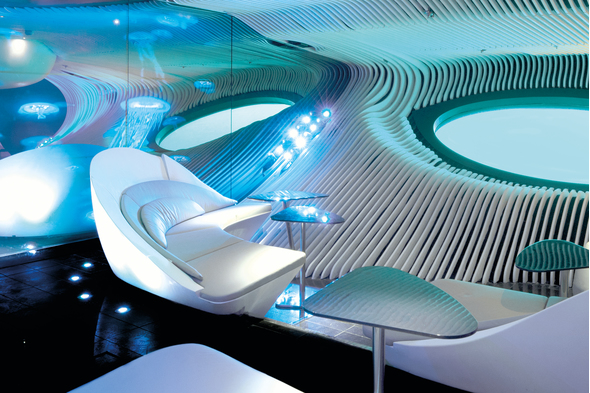 More impressive to me are the infinity pool and hydraulic decks at the back of the ship, creating, where appropriate, a beautiful marina and pool club, with easy boarding and zodiac embarkation. This also allows easy access to the sea for swimming and watersports such as kayaking or paddle-boarding.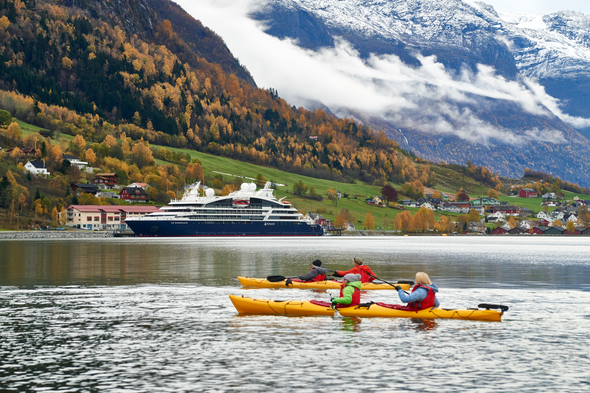 An outdoor grill gives excellent views over this deck area, whilst the Panoramic restaurant also gives onto outdoor aft deck space - there is a huge emphasis on the outside, whilst retaining plenty of comfortable indoor space for polar exploration when necessary.