Temperatures at the South Pole itself range from -20°C to -60°C, but you won't have to deal with anything that extreme. The majority of Antarctica cruises focus on the Antarctic Peninsula, where summer temperatures tend to hover around freezing, and you'll experience similar conditions if you're sailing on one of the more unusual Ross Sea itineraries departing from New Zealand. When the skies are clear it can actually feel quite warm, but with cloud cover and a strong wind you'll definitely need the right clothing. Here's our recommended Antarctica packing list:
1. Parka
The first thing to know is that the operators we work with provide you with a suitable jacket designed specifically for these conditions, so you don't actually need to pack your own. Most also provide waterproof boots to wear ashore, with some imposing a small hiring fee. These are must-have items, as you'll need to hop off a zodiac on some landings, possibly into shallow water.
2. Wind and waterproof trousers
It is important to have warm, waterproof trousers. When going ashore sea spray is whipped up by the wind as you sit in your zodiac, and even standing on deck or walking whilst ashore can be cold when a bitter wind blows. Ski clothing is ideal and perfectly suited for this type of trip. A good pair of Gore-Tex ski trousers will allow you to sit on the snow to capture that moment when a penguin walks into shot, and they're designed to work with waterproof boots.
3. Gloves
You'll also need warm, waterproof gloves; again, a pair designed for skiing would be ideal. Gloves will be necessary whilst in a zodiac, and you should also consider how easy your camera is to use whilst wearing them. If you've got a touch screen or wish to vary your camera settings you should take a thinner pair to use while ashore and on deck.
4. Layers
We recommend layers of outdoor clothing to cope with the temperature variations. While waiting to go ashore you'll be in the warmth of the ship, so a zip-up fleece with a base layer is ideal. On sunny days you might be warm enough in just a T-shirt, so being able to lose layers is important. The last thing you want is the irritation of being too hot or too cold when you should be enjoying the extraordinary wildlife and scenery.
5. Sunglasses and sunscreen
Do take sunglasses and sunscreen, as bright days mean a strong glare from the snow. During good weather you'll be able to enjoy lunch outside (providing the ship has this space), so believe it or not it is possible to come home with a tan!
6. Rucksack
A good rucksack to take your essentials ashore is a must. You'll want to carry water, perhaps an extra layer, sunglasses and a camera. Getting in and out of a zodiac can require some effort so you'll want to make sure everything you take ashore is well secured. Dropping a camera in the water means losing pictures that will be very difficult to replace! Some cruise lines provide you with a complimentary rucksack and reusable water bottle - check with us when booking.
7. Casual clothes
Casual clothes are commonplace on board ,with jeans and jumpers being the norm. In the evening some cruise lines may be a little smarter, but everyone wants to be comfortable, especially after a full day of excursions. It's best to call us for information on specific cruise lines.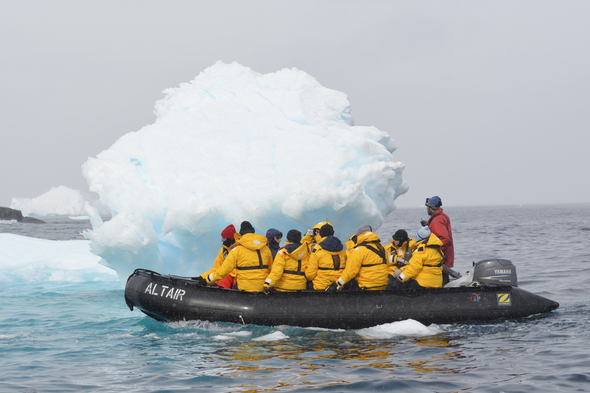 8. Camera
You'll definitely want to capture this once-in-a-lifetime experience on film, so taking a camera is a must. The exact model is very much down to you, but we would recommend something with a good zoom and a fast shutter setting or sports mode to capture the wildlife. It is also a good idea to keep a camera with you whilst on board, even at dinner. This might be just your phone camera, but having it with you to snap an amazing sunset when the light is just so, or if whales are spotted nearby, is well worth it.
9. Swimwear
You may be a little surprised to hear this, but even if your ship doesn't have a pool or Jacuzzi it's worth taking your swimming gear, as there is often the chance to try the notorious polar plunge, where you jump into the chilly Southern Ocean. Not for the faint hearted!
10. Seasickness medication
Cruising to Antarctica involves navigating the notoriously choppy Drake Passage. You might be lucky and enjoy a smooth crossing, but it's definitely worth being prepared for the worst. For more advice on coping with the swell, take a look at our guide to crossing the Drake Passage.
Get your free Antarctica guide
Our expedition cruising guide to Antarctica will tell you everything you need to know, including when to visit, what to see and how to get there.