Brittany born and bred, Erwan le Rouzic comes from a seagoing family stretching back generations. Hardly surprising, then, that he decided a life at sea was for him. After five years at marine academy, he secured his first job at sea, finding the perfect way to combine his working life and his passion for travel. He cites early responsibilities and opportunities to make big decisions as reasons for his love of working at sea.
"Although it's not an easy process," he explained. "Training for a senior role at sea requires at least ten years of dedication. During the first five at marine academy you master the key skills: navigation, technical, electronics, management, medical, law, history and insurance. Then you need at least five years at sea, starting as a cadet and rising to second mate, first mate, chief officer and staff captain before getting your license, and waiting for your first command."
His long years of work have stood him in good stead for his job as the first master of the luxury yacht Scenic Eclipse, leading far-ranging itineraries to remote and alien regions. When cruising in treacherous areas, experience is everything. Although Captain Le Rouzic acknowledges he doesn't have the archetypal white beard and wrinkly chubby face, what he does have is experience and authority, giving his crew and his passengers total confidence in his skills.
The primary challenges of sailing in Antarctica are the logistics, as you strive to design a great guest experience on the fly, as it were. Extremes of weather and ice, and constantly changing conditions, require total focus, and good communication is essential to reassure passengers and ensure they make the most of their time in the wilderness.
"The current trend in expedition cruising is for loads of landings," Captain Le Rouzic explained. "But with experience you realise that diversity is what's important: zodiac cruises, hiking, kayaking or just watching the world go by. Often a zodiac cruise is better than a landing, with close-up views of the wildlife and the opportunity to switch off the engines and soak up the sights and sounds."
In recent years, everything has changed in maritime technology. You used to get a simple weather forecast once a day: now you receive much more sophisticated information via the internet, allowing the master to create the best itinerary with the best weather possible. Ships are more comfortable with bigger stabilisers. The captain's job, he told me, is constantly to watch the forecast and the ice concentration - you don't need to take risks to create an unforgettable journey.
I wondered how he felt about the Scenic Eclipse, Scenic's first ocean going vessel.
"This ship is different to any other in this region," he told me. "On the one hand you have the extraordinary ultra-luxury experience on board, with huge suites and a whole variety of dining venues. The whole ship is designed to feel like a private yacht. And then there are the unique features, such as two helicopters and the submarine to get a whole new perspective on the scenery and the wildlife."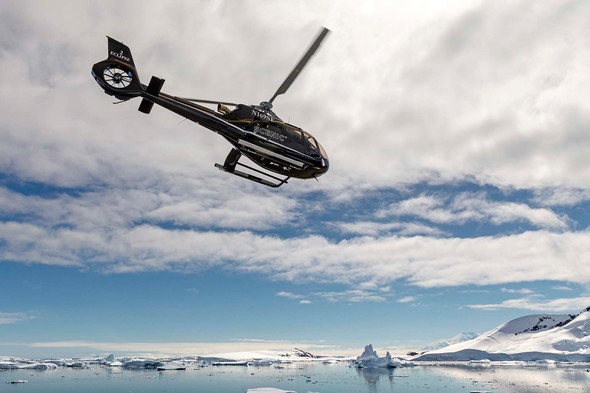 Captain Le Rouzic works a two months on, two months off rotation, giving him the opportunity to regularly recharge his batteries and update his skills. His home is in French-speaking Canada, near Montréal, and he loves to be back with his family (one daughter and one son) to enjoy the outdoors lifestyle: cycling, hiking, sailing, skiing depending on the season, not to mention the great restaurants and bars.
Every single moment on my Antarctica cruise was extraordinary to me, but I wondered what unique experiences there had been on this particular cruise, from the captain's perspective.
"One amazing day was when we saw the orcas feeding on the whale," he answered. "I've only seen anything like that maybe three times in ten years. What a sight, with the birds flocking down, the feeding frenzy. Also, we were lucky with the great weather in Eden Bay with so many people jumping in the water."
His favourite destination is Antarctica.
"Why is that?" I wondered.
"The spectrum of emotions. The scenery. Contrasts: one moment you're in a snowstorm with poor visibility, then you sail into bright sunshine, whales everywhere. And it's action packed - every day in Antarctica lasts two days. By lunchtime it feels as if you have had a full day of activity. After three days, suddenly time flies. The situation can completely change from one day to the next. Remember our first landing, scheduled for Melchior Island. Because of the wind and tide, there was lots of ice at the landing site, so we couldn't make the call - it was completely different from the last cruise. You need to be nimble, think on your feet, and work out where else to go."
At the end of our meeting, he talked about Antartica etiquette - you never go where another ship is. In fact you try to avoid seeing each other. You'll catch sight of a ship in the distance sometimes, morning or evening, but every captain is aiming to maintain that wilderness feeling.
I left the captain to return to his many duties - checking on the Bridge, overseeing the charts and weather forecast, speaking to the passengers, planning crew movements, and so much more, and returned to the magic of my Antarctica cruise.
Get your free Antarctica guide
Our expedition cruising guide to Antarctica will tell you everything you need to know, including when to visit, what to see and how to get there.