Visiting this amazing white continent is like being on another planet; you'll come home with some incredible pictures, but more importantly, some wonderful memories. I've recently returned from a 10-night Antarctica expedition on Scenic Eclipse, and I cannot tell you what an amazing trip this was.
Eclipse is a brand new yacht, so modern and stylish, with all-suite, all-balcony accommodation and a variety of restaurants offering different cuisine. Open seating means you can join friends or have one of the many tables for two by the window, and the blinds are always open, so you can enjoy the long daylight hours and not miss a thing outside. Yes, you may be at dinner, but the ship will let you know if there is something to see. You will need to make reservations in some restaurants, but your butler will take care of that for you.
The ship has beautiful lounges in which to relax and enjoy the company of others, have a drink before dinner and discuss your day, or put your feet up and go through your photos. One of my favourite times of day was in the Observation Lounge, selecting a special tea from the menu and sitting in a comfy chair, looking through photos together.
The ship has a great theatre, with relaxing chairs for presentations and briefings which build the excitement for the following day. The expedition team are with you throughout, keen to share their knowledge and their passion for Antarctica.
A Grand Deluxe Verandah Suite on Deck 5 was my home from home for 10 days, a very modern room with plenty of space, a large bathroom with rain shower, and ample storage. Other luxurious features include remote-controlled beds that can be operated separately if you have them set up as a double, a choice of comfy pillows, a useful UK plug socket and USB points next to the bed, and a good sized balcony that gives you plenty of great photo opportunities.
I stood there one day looking out as we were due to anchor, and suddenly two minke whales went past. I just had time to run inside and grab my camera for a photo - what a moment! I also saw penguins from my balcony, and I made good use of the binoculars provided in my room. In fact I was surprised by just how much time I spent on the balcony, considering I was in Antarctica. Here you can have four seasons in one day, but we were blessed with some very sunny days (though still cold); I even managed to sit outside the spa on a sun bed for an hour at one point!
It soon became clear that the ship's captain, Erwan Le Rouzic, did not want us to miss a thing. We had a gentle tannoy message at 6am one morning to go to the front of the ship, where a pod of orcas had just made a kill, and there was plenty of action, with huge birds sweeping in to try and grab a piece of the feast.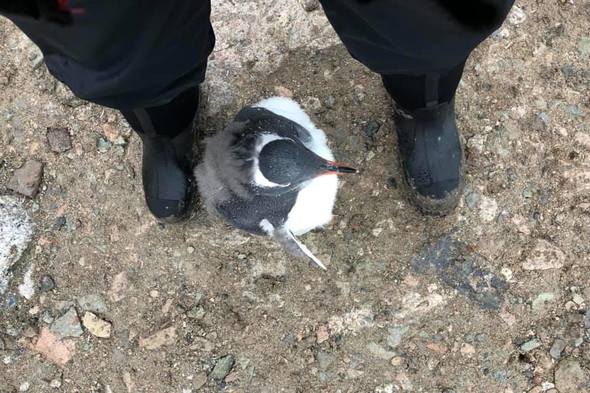 I had such memorable experiences on the many landings we made, with the team there with us passing on information and answering our questions. They also made sure we all stuck to the rules where the wildlife is concerned, but a lot of the time it's out of your hands. The gentoo penguins have no fear of humans and are very inquisitive, as I discovered when one of them seemed to adopt me. I was stuck for about 15 minutes while he just stood between my legs quite happily; I was unable to move, but everyone else was taking photos of us, and needless to say I got some good shots of him from above!
The zodiac cruises were fantastic too, with the opportunity to get up close to whales and seals. We had so many great experiences, with humpbacks swimming around us, seals floating on chunks of ice and penguins zipping past like bullets through the water.
The trip just got better and better. Another very memorable moment was a zodiac cruise amongst the icebergs, so many different sizes, shapes and beautiful blue colours, the silence and the pure air, and then we spotted two leopard seals together on a floating iceberg. Our guides were brilliant, and I just loved listening to them talking about the ice.
You also have the opportunity on Scenic Eclipse to book a submarine ride or helicopter tour at an additional cost. I did the helicopter tour, and I would definitely say this is a must-do for anyone travelling on Scenic Eclipse. Having that aerial view of the Antarctic Peninsula is just incredible, you see so much and from a completely different perspective. We flew over a large iceberg that had the brightest blue pool of water on top of it, and the humpback whales travelling along in a group below us looked like goldfish. As we headed still higher over the rocks I just didn't know where to look first; it was absolutely breathtaking.
Scenic Eclipse is a beautiful yacht, and she looked stunning in Antarctica against the brilliant white background. Choose this ship for your Antarctica cruise and you will have a real adventure during the day, and the utmost luxury back on board. A truly magical combination.
Get your free Antarctica guide
Our expedition cruising guide to Antarctica will tell you everything you need to know, including when to visit, what to see and how to get there.