Visiting this amazing white continent is like being on another planet; you'll come home with some incredible pictures, but more importantly, some wonderful memories. I've recently returned from a 10-night Antarctica expedition on Scenic Eclipse, and I cannot tell you what an amazing trip this was.
Eclipse is a brand new yacht, and although there were a number of delays to the build, she was definitely worth the wait. This is a modern and stylish vessel, with all-suite, all-balcony accommodation, a variety of restaurants offering different cuisine and an impressive array of equipment for off-the-beaten-track exploration.
Although the ship is new, I found the team on board had plenty of experience and were always around to pass on information and answer questions. It became clear that they were all working hard to make sure we didn't miss a thing, including the ship's captain, Erwan Le Rouzic. We had a gentle tannoy message from him at 6am one morning to go to the front of the ship, where a pod of orcas had just made a kill, and there was plenty of action, with huge birds sweeping in to try and grab a piece of the feast.
My trip involved a crossing of the infamous Drake Passage, followed by six days exploring the Antarctic Peninsula, with regular landings ashore using the ship's fleet of Zodiacs. As well as for landings, these were also used to explore from the water, navigating around mini icebergs, with the opportunity to get up close to whales and seals.
The shore trips where exhilarating, with huge numbers of penguins waddling around. The gentoo penguins have no fear of humans and are very inquisitive, as I discovered when one of them seemed to adopt me. You're briefed not to approach the wildlife, but no one explained this to the penguins, and I was stuck for about 15 minutes while one curious little gentoo just stood between my legs quite happily; I was unable to move, but everyone else was taking photos of us, and needless to say I got some good shots of him from above!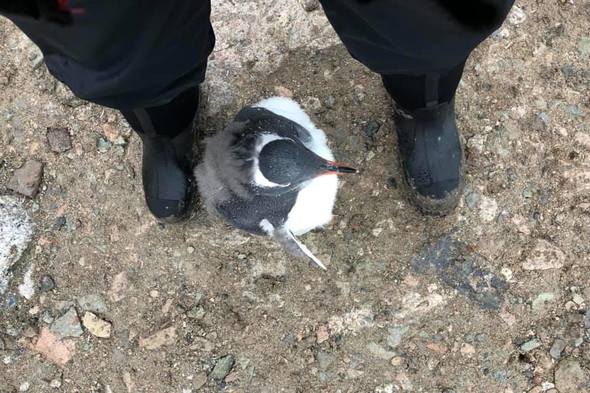 The zodiac cruises were fantastic too, with the opportunity to get up close to the wildlife. We had so many great experiences, with humpbacks swimming around us, seals floating on chunks of ice and penguins zipping past like bullets through the water.
Another very memorable moment was a zodiac cruise amongst the icebergs, so many different sizes, shapes and beautiful blue colours, the silence and the pure air, and then we spotted two leopard seals together on a floating iceberg. Our guides were brilliant, and I just loved listening to them talking about the ice - much more interesting than it sounds!
Scenic Eclipse is a real trailblazer, and helped to set the current trend for expedition ships offering amazing extras like submarine rides and helicopter tours (at an additional cost), as well as the more standard activities such as kayaking. We were briefed on the options at the beginning of my cruise, which is also when we had to sign up. Unfortunately I wasn't able to do everything as the timings clashed, and all activities in Antarctica are reliant on having decent weather, so I was nervous about missing out. In the end I skipped the 40-minute submarine trip, and I felt my bad knee might make the 2-3 hour kayaking excursion a bit much, especially as you have to get into the kayak from a Zodiac and I didn't fancy my chances, even with a dry suit on!
In the end I put my name down for the 25-minute helicopter trip, and I would definitely say this is a must-do for anyone travelling on Scenic Eclipse, worth every penny of the not insignificant US$695 cost. Having that aerial view of the Antarctic Peninsula is just incredible, you see so much and from a completely different perspective. We flew over a large iceberg that had the brightest blue pool of water on top of it, and the humpback whales travelling along in a group below us looked like goldfish. As we headed still higher over the rocks I just didn't know where to look first; it was absolutely breathtaking.
Interestingly, I spoke to some other guests who were lucky enough to explore in the hi-tech sub, just before it had to be withdrawn from service because of a technical problem. Although they were thrilled by the experience they were a bit underwhelmed by the little that they actually saw. Perhaps they were unlucky, although our suspicion at Mundy is that this will be more appealing in warmer waters with accessible reefs.
To help make sure you're fully briefed for the days exploring there is a great theatre where I enjoyed a number of entertaining and informative lectures in the incredibly comfortable seats. This really helps to build the excitement for the following day, and the talks were hosted by the expedition team who are with you throughout, keen to share their knowledge and their passion for Antarctica.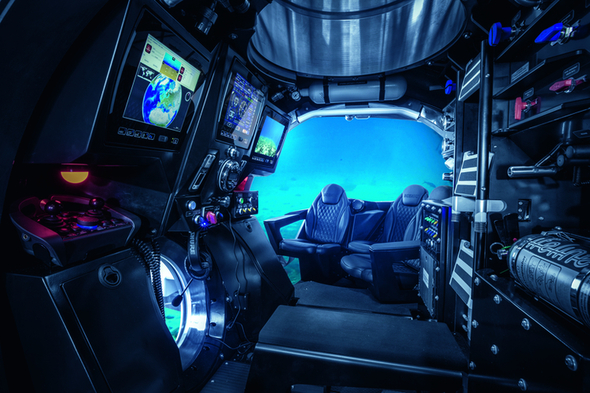 The public areas of the ship are very well done, and go a long way towards making sure that the trip runs smoothly. There is a good-sized and well-positioned mud room for donning your boots, and with colour coded landing parties there was little crowding. A nice touch was the table set up just outside offering hot drinks when we returned from a trip, with a splash of whisky available if you wanted.
The ship has beautiful lounges in which to relax and enjoy the company of others, have a drink before dinner and discuss your day, or put your feet up and go through your photos. One of my favourite times of day was in the Observation Lounge, selecting a special tea from the menu and sitting in a comfy chair, looking through photos together.
The accommodation on Scenic Eclipse is fantastic. My home from home was a Grand Deluxe Verandah Suite on Deck 5, a very modern room with plenty of space, a large bathroom with rain shower, and ample storage. Other luxurious features include remote-controlled beds that can be operated separately if you have them set up as a double, a choice of comfy pillows, a useful UK plug socket and USB points next to the bed, and a good sized balcony that gives you plenty of great photo opportunities. It was also great to be provided with a pair of binoculars. The only downside, and I had to look hard for it, was the lack of a magnifying mirror in the bathroom. The hardships you have to endure in Antarctica!
I have to admit I didn't think a balcony would get any use traveling in an icy wilderness, but I was surprised by just how much time I spent out there. Here you can have four seasons in one day, but we were blessed with some very sunny days (though still cold). I stood there one day looking out as we were due to anchor, and suddenly two minke whales went past. I just had time to run inside and grab my camera for a photo - what a moment! I also saw penguins from my balcony, and I made good use of the binoculars provided in my room.
If you're considering a trip to Antarctica I highly recommend travelling on an all-balcony ship, or opting for a balcony grade on ships where the accommodation is a mix of balcony and window options.
Another advantage of the balcony was that it made up for the lack of deck space on Scenic Eclipse. I didn't find this to be an issue on my trip, but it's worth bearing in mind if you're looking to travel in warmer climes when the ship sails in the Mediterranean and the Americas, especially if you like to lounge by the pool; in fact there is no large outside pool. The Yacht Club has a heated indoor pool located directly underneath the helipad, and there is also a small outside area with a cold water plunge pool, but this was often closed for safety when the helicopter was in operation on my cruise and wasn't really used.
However, there is a lovely spa with everything you need - sauna, steam room, polar plunge pool - and I though it was especially impressive for a small ship. It was nice to enjoy the steam room and then relax on heated beds with water and juice to hand, and you also have access to the deck at the rear of the ship, where there is a small half-moon pool, also cold water. I even managed to sit outside on a sun bed for an hour at one point!
The Yacht Club was a popular place to dine, open for breakfast and lunch, with a relaxed and welcoming vibe. It was a little disappointing that the glass roof doesn't open, and the showers for the pool are a little close to the seating for my liking, but on the whole it was lovely.
In fact, all of the dining on board was very good. Open seating means you can join friends or have one of the many tables for two by the window, and the blinds are always open, so you can enjoy the long daylight hours and not miss a thing outside. Yes, you may be at dinner, but the ship will let you know if there is something to see. You will need to make reservations in some restaurants, but your butler will take care of that for you.
My favourite venue was the strikingly modern Lumière. I was travelling by myself, and I dined there alone once. The staff were so welcoming, and the chef even came out of the show kitchen for a chat. The food was refined French fare with lots of small dishes, creating a real sense of occasion, and there is a trendy Champagne bar for a glass of fizz whilst you wait for your table. It was a popular choice, with a menu that changed once during my cruise. If I had known how good it was I wouldn't have waited until so late in my trip before trying it!
The Azure Bar & Grill was next door and somewhere I found myself a lot. Open throughout the day, it was great for a light breakfast, lunch or snacks in the evening, with porridge, pastries, cakes, soups and sandwiches available depending on the time of day. Plenty of informal bench and bar seating meant I never had an issue finding a spot, and although it wasn't really warm enough to use the small seating area outside there were tables next to the large windows for great views.
I have a particular love of Asian cuisine, and I have to say Koko's was very good. The design is brilliant, incorporating three restaurants in one, and there is a chic city vibe. The main restaurant has lots of tables for two, and trendy sunken tables for larger groups. The Sushi bar, Sushi@Koko's, requires a reservation, however I was invited to join a couple I'd been speaking to earlier in the day and was accommodated immediately. I dined at Teppanyaki@Koko's once and our chef prepared excellent food, but without the theatrics that I associate with this type of experience. Located in a private room just off the main restaurant, there are just ten seats around the grill, and a reservation was required. I found it dominated by a group of friends on the evening I dined, so I'd recommend going later in your trip, when you can perhaps get your own group together.
Elements, the 'main' restaurant, was my usual evening choice, and I enjoyed the tables for two by the window, which were combined to cater for larger groups. There was never a problem getting a table here, or in Koko's or the Yacht Club for that matter. The only venue I couldn't get into was the Chef's Table, a private room just off Elements which is reserved for guests in the highest suite categories or those who have travelled several times before with Scenic. If you don't qualify I'd recommend registering your interest, as I heard great things from other guests, but there is no guarantee that they'll have space.
Scenic Eclipse is a beautiful yacht, and she looked stunning in Antarctica against the brilliant white background. Choose this ship for your Antarctica cruise and you will have a real adventure during the day, and the utmost luxury back on board. A truly magical combination.
Get your free Antarctica guide
Our expedition cruising guide to Antarctica will tell you everything you need to know, including when to visit, what to see and how to get there.