The Sea of Cortez is situated between Baja California, the world's second longest peninsula, and the Mexican mainland. Ashore you'll explore a desert landscape of rocky red cliffs and towering cardon cacti, while under the water lies a vibrant world of colourful fish, sea urchins, sea lions, dolphins and a host of different whale species.
These contrasting environments require a little bit of planning when it comes to packing, so we've put together this list of essential items for your Sea of Cortez cruise:
1. Underwater camera
As well as taking your regular camera, we strongly advise investing in an underwater camera, with the ability to take video, if you don't own one already. The most spectacular wildlife here is underwater and when snorkelling with sea lions pups you're going to want to try to capture the experience. A GoPro is a popular choice, and we'd recommend taking a head mount to secure the camera while you're snorkelling. Whatever combination of cameras you end up taking, don't forget to pack a spare memory card, battery and charger!
2. Dry bags
You'll be spending a lot of time bouncing along the waves on a Zodiac (a type of rigid inflatable boat) as you cruise along coastlines and head ashore to the various landing sites, so it's worth taking some dry bags to protect your camera equipment from getting splashed. These are also handy if you're making wet landings, where you disembark on a beach by hopping out of the zodiac into the shallows.
3. Hiking shoes or boots
At some landing sites you'll be hiking up rocky and relatively steep trails so we recommend a pair of sturdy hiking shoes or boots with good grip, teamed with hiking socks made from a breathable, moisture-wicking material such as Merino wool.
4. Binoculars
Handy for scanning the waters for whales and dolphins, or getting a closer look at the birdlife soaring overhead, a pair of compact binoculars are a must have. Look for a pair with 8x or 10x power for the best balance of magnifying power and portability.
5. Polarised sunglasses
Strong sun overhead is reflected by the relatively calm waters, which means sunglasses are a must. Polarised lenses are the way to go, helping to cut out glare from the surface of the water and making it easier to spot marine life.
6. Lightweight breathable clothes
Winter in the Sea of Cortez sees average daily temperatures in excess of 25°C, and the amount of time you will spend in Zodiacs, out on deck wildlife spotting or hiking ashore means very little shade, so it will often feel hotter. When you're planning your holiday wardrobe, make sure you pack plenty of lightweight breathable clothes: T-shirts or safari-style shirts are best for daytime exploring, along with shorts or hiking trousers. In the cooler evenings a light jacket or fleece is great, especially one that can also be used as a windbreaker, handy when you're out on deck. If you're packing light, travel detergent for hand-washing clothes might also be useful as there are usually no laundry facilities on board.
7. Day pack
You'll want a day pack or rucksack for your water bottle, sun cream and other essentials. There's no need to go overboard - a 15 litre pack is plenty big enough. It's also worth bearing in mind that some expedition cruise lines will provide you with a complimentary day pack, so you may not need to bring your own - ask your Mundy Adventures cruise consultant if you're not sure.
8. Sun protection
This is a desert environment and the sun can be fierce. Make sure you pack a sun hat and some sun cream, and re-apply regularly. Experts recommend an SPF of at least 30, and you should make sure that you get a waterproof variety that you can use whilst snorkelling, as often the wetsuits provided are 'shorties' so your lower arms and legs are exposed.
9. Seasickness medication
The Sea of Cortez and especially the waters of Magdalena Bay are usually very calm, however there could be some windy days, and the ships which operate here are small, so you might feel some movement on board. It's not something you should be concerned about but, if you suffer from motion sickness, then we recommend packing some medication just in case.
10. Snorkelling gear
The snorkelling in the Sea of Cortez is fantastic, especially the chancge to get in the water with the playful sea lion pups, so if you have your own gear then don't forget to pack it! Most ships will provide the basics - snorkel mask, fins, shorty wetsuit - but despite the relatively warm water you may want to bring extra equipment such as aqua gloves and socks if you feel the cold.
11. Water shoes or sandals
Landings on a Sea of Cortez trip can be both 'dry', when you disembark at a jetty or pier, and 'wet', when you jump out of the Zodiac and wade a short distance through the (normally shallow) water. On sandy beaches it's fine to hop out in bare feet, but some beaches are slightly rockier so your feet will need protection. Make sure you pack some water shoes or waterproof sandals that won't slip off, ideally something suitable for a short hike ashore; Crocs or Teva-style sandals are a popular choice.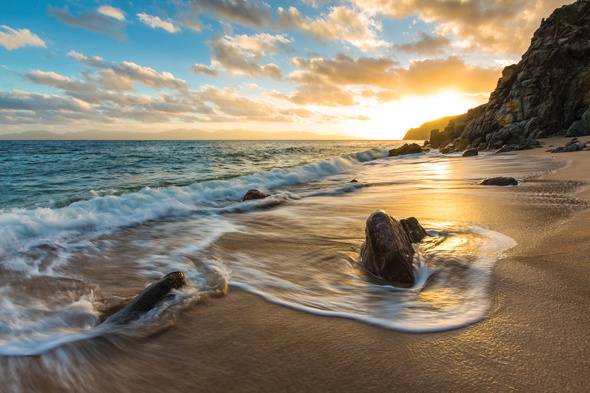 12. Swimwear and gym wear
Even if you don't plan on snorkelling we still recommend bringing your swim suit or shorts, as kayaking and stand-up paddle-boarding are often offered, or even if you just want to take a quick dip at the beach. On a busy expedition itinerary, you might not find time to hit the gym (if your ship has one), but you may well enjoy greeting the morning with a pre-breakfast exercise or yoga session on deck, which on some itineraries is led by a wellness specialist. For those committed to their exercise regime, some ships do have small gyms with exercise bikes, cross trainers, resistance bands and yoga mats to use at your convenience - ask your Mundy Adventures cruise consultant for details.
13. Something nice to wear on the ship
Expedition cruising is all about the destination, and you'll likely be spending most of your time during the day going ashore on the Zodiacs, kayaking along the coast or snorkelling amongst the amazing marine life. The atmosphere on board is laid back and casual, a far cry from the traditional image of cruising, with no requirement to dress up for dinner and certainly nothing resembling a formal night. Nevertheless, you might want to pack something a bit nicer to wear to dinner after an action-packed day of exploring.