However, in between the polar seasons these vessels utilise their smaller size, enhanced manoeuvrability, fast zodiac deployment and expert guides to explore some of the world's most exciting exotic destinations. Here are our top five...
Sailing 2,300 miles upstream from the Atlantic Ocean to the Peruvian city of Iquitos is about as far from a polar itinerary as you can get. The Amazon river takes you into dense rainforest packed with extraordinary wildlife, and journeys this far upriver are accessible only to smaller vessels with strengthened hulls to navigate the occasionally debris-laden waters.
Hapag Lloyd's Hanseatic Inspiration offers an incredible voyage from Belém to Iquitos in March 2024, during which you will explore the small tributaries of the Amazon by Zodiac and at the completion of the voyage, your adventure will have covered over 4,000km of this incredible river.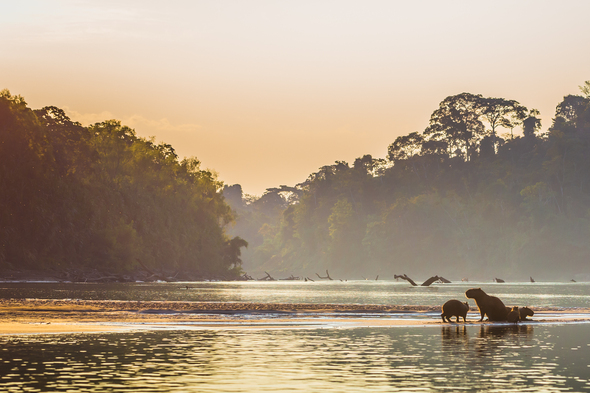 Many expedition ships spend time in Central America while travelling between the poles, with an emphasis on the region's staggering biodiversity. Costa Rica is a particular highlight, with lush vegetation, pristine beaches and an abundance of wildlife inhabiting the country's national parks.
There are also opportunities to investigate the wild Darién jungle of Panama and travel through the incredible feat of engineering that is the Panama Canal, accompanied by naturalist guides who are on hand to tell you more about the fascinating wildlife. Ponant's Le Dumont-D'Urville is a visitor, with a 10 February 2024 voyage to Panama and Costa Rica, in partnership with Smithsonian Journeys.
One of the best expedition operators in the world, Lindblad explore the Sea of Cortez every December, a destination that is often overlooked by UK travellers, nestled between the barren Baja California peninsula and the Mexican mainland. The line have a close relationship with National Geographic and a reputation for offering more aboard, such as a certified photo instructor on every Baja California departure to assist you with camera settings, the basic elements of framing, composition and lighting and general tips to ensure you go home with fantastic photos.
Your ship's fleet of zodiacs will be put to good use in an area famed for its abundant dolphins, sea turtles, blue whales, gray whales, orca, humpback, pilot and fin whales, whale sharks, manta rays and sea lions, earning itself the moniker of 'the world's aquarium' from Jacques Cousteau.
4. Raja Ampat
The sleek ultra-luxury discovery yacht Scenic Eclipse II sails the islands of Indonesia in September 2024. From Darwin sail exotic isles and discover Raja Ampat, a marine biodiversity hotspot located in the heart of the Coral Triangle. With 75% of the world's coral species and over 1,500 species of tropical fish found here, it's a paradise for divers and snorkellers.
Ashore you'll explore on guided walks through rainforest where you may catch a glimpse of birds-of-paradise, and you'll visit islands with a diverse array of cultural influences, including Melanesian, Islamic and European, with reminders of the Portuguese explorers and Dutch traders who ventured to the 'Spice Islands' in search of highly-prized spices such as nutmeg.
Ponant's chic explorer yacht Le Jacques Cartier sails the lesser-travelled sub-tropical islands of Japan next spring, with several sailings in March 2024 and April 2024. Discover the remote Iriomote Island, almost 90% covered in jungle and filled with endemic and rarely-seen wildlife including the elusive Iriomote cat.
Other islands offer a combination of powder-white sand, crystal clear waters and traditional heritage, making these itineraries a truly special exploration of the unique natural wonders of Japan.