Whilst the company has several years of expedition experience operating Seabourn Quest in Antarctica, not to mention the Ventures by Seabourn enhanced cruises, Seabourn Venture will be the company's first dedicated expedition ship, so we were eager to learn more about the plans.
Q: What are the features of Seabourn Venture that distinguish her as a purpose-built expedition ship?
A: Our PC6 ice-strengthened hull, with bow thrusters and Azipod propulsion, will combine to give us great manoeuvrability in heavy ice and at slow speeds. This is essential for wildlife viewing in polar waters. Then the view to the world is great with floor-to-ceiling glass for uncompromising views. We have plenty of open deck space, and the submarines of course (more about them later…).
The open bridge policy is extremely important - unlike on a classic cruise, on an expedition, passengers are sucked into the operation of the vessel to give a truly immersive experience. They feel like they are a part of the navigation team. And that is enhanced by the Bow Lounge.
Then of course there are lots of additional features such as the spacious mudroom, the heated floors and walls for drying out wet clothes in your suite and much more.
What I love is that it is the combination of a classic Seabourn cruise ship, no compromise, we've not touched that experience, and overlaid with the expedition experience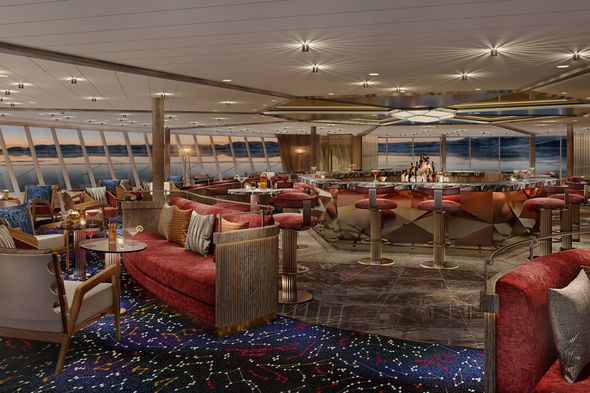 Q: Which of these features differentiate her from the competition - are there compelling reasons to select Seabourn Venture over other expedition specialists?
A: The bow experience is going to be pretty special. The Bow Lounge, is effectively a replica of the Bridge, with three bridge consoles each with four screens showing charts, radar, controls and the view from the outside mast camera - you can check out a polar bear 3 miles away! From the lounge, the doors open right onto the bow (foredeck), and there is a bowsprit extending over water so you can look back at the ship. This is going to be so great when you are inching forward through the ice.
Q: It looks like you will have 24 Zodiacs for 264 guests, so that gives 11 people and a member of the expedition team on each Zodiac, is that what you are planning?
A: Yes, we have ten Mark 5 Zodiacs with 10-guest capacity, and fourteen Mark 6 with 12-guest capacity, so there will be ample space, and the Zodiacs will never be overcrowded. Also we have four cranes so we can speedily launch and recover simultaneously, and very spacious mudrooms to give us extra flexibility. That way if we see something really exciting, we can get people out and part of it really quickly. Also at the front of the ship we have a shell door allowing people to walk straight out onto the ice if the conditions are right.
Q: How many will be in the expedition team?
A: There will be 26 staff, all of whom can drive Zodiacs. Some will also be trained to drive the submarines, so the guests will always have an expert with them enhancing their experience.
Q: How do you go about putting an expedition team together, and how are you managing currently given all the new entrants to the market?
A: Yes there is no doubt there has been rapid expansion in the expedition market, and we are all looking to employ the best communicators, with the right qualifications and experience. Luckily with a history of expedition operations, as Seabourn Quest has been operating in the field for about seven years, there is a pent-up aspiration to work for Seabourn, and good staff are reaching out to us. They know at Seabourn they get good treatment, not just salary but also working conditions. They will get excellent training in an enjoyable environment - so our experts return year after year. There is lots of word of mouth recommendation, it is a small community and we have a reputation as a good company to work for. We are also great at attracting new people with internships, training programmes and courses, and skill enhancement.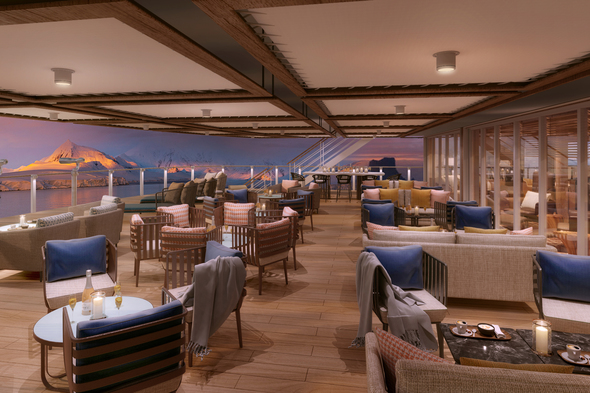 Q: Seabourn Venture doesn't appear to have a marina. Can you tell us why that feature was not included in the design?
A: Marina day is a Seabourn thing, but expedition is so different from classic cruising that we didn't feel the necessity. We do have a large interior garage area, and a sort of modified marina concept. Plus we have plenty of open deck space for when we are operating in tropical areas.
Q: It looks like you've got lots of toys and technology, and there are some things which appear strange, for example scuba diving is included but kayaks 'optional' - does 'optional' mean 'paid for'?
A: In the original plan we had helicopters, which we know can add to the experience. We had many long discussions but in the end we removed them from the plans on the basis that they were a bit of an environmental compromise, with more pollution, and a detrimental impact on the wildlife, and indeed the guests. We analysed the noise, and finally decided against.
As for kayaking, the operation is a bit complicated. Embarkation is not on the ship: we do the preparation and training in the mud room, then take the guests by Zodiac to the kayak centre which is sometimes up to three miles away. So you have to know that you really want to do it, and are able to enjoy it, and not spoil the experience for others. Divers are sort of self-selecting, they need PADI certification so we know they have the expertise. Everyone thinks they can kayak, and it's not true. If there's a charge, you will only do it if you know you're going to enjoy it. The charge will be about US$150 per trip.
Q: Tell me about the submarine excursions?
A: This is going to be amazing. As a diver, I hadn't expected to be really impressed, but the experience blew me away. The sub's got two large acrylic spheres, so all the passengers share the same unique, undisturbed and undistorted view in all directions. The passenger seats in each sphere are mounted on a revolving platform that can turn to face any direction in order to experience the best view. We can take six paying guests and the pilot on each trip, at a charge of about US$450 per person.
Q: We Brits who hate long dark winters might resist the Norwegian winter voyages, travelling beyond the Arctic Circle, so can you explain what makes them a 'must do'…?
A: I am also Northern European, so I know exactly what you mean, but in fact these voyages tick so many bucket list boxes: the Northern Lights, ice hotels, dog sledding, reindeer sledding, twilight, diving, submarine experiences (winter time visibility is about 30-40 metres), and more. Seabourn guests are pretty well travelled so they are always looking for something new, and love the thought of adventuring out of their comfort zone, but with all the comfort of Seabourn when they are back on board. The itineraries are designed to avoid open sea where possible.
Q: What one aspect or feature of the ship most excites you?
A: I love that all the exciting things we've been talking about come together to deliver a really unforgettable experience. A trip on Seabourn Venture is going to be a trip of a lifetime.
Download the Seabourn Venture Norway 2021-2022 e-brochure
Find out more about Seabourn Venture's inaugural winter season, exploring the coasts and islands of northern Norway in search of the magical Northern Lights.