This is one of those destinations that travellers dream about visiting for years, and most people will only ever be here once. With that in mind, it's important to pack the right gear and ensure that you make the most of your time on the Galapagos. Although a cruise makes it easy to travel between the islands, there are a number of factors to consider, from the strong equatorial sun to the fact that you'll be going ashore in small zodiac boats. With that in mind, we've put together our ultimate Galapagos packing list:
1. Underwater camera
As well as taking your regular camera, we strongly advise investing in an underwater camera if you don't own one already. And make sure you have a strap to secure the camera so you don't lose it! Some of the most spectacular wildlife in the Galapagos is underwater, including turtles, manta rays, sea lions and Galapagos penguins. A GoPro is a popular choice for taking underwater video, and you can buy a special chest mount to secure the camera while you're snorkelling. Whatever combination of cameras you end up taking, don't forget to pack a spare memory card, battery and charger!
2. Binoculars
One of the most amazing things about the Galapagos is just how close you can get to the wildlife, since most species live on protected and uninhabited islands, and have not developed any fear of humans. However, there are some occasions when binoculars will come in handy for getting a closer look at frigate birds soaring overhead, flamingos feeding on the far side of a lagoon or marine iguanas clinging to a cliffside. A pair of compact binoculars with 8x or 10x power offers the best balance of magnifying power and portability.
3. Polarised sunglasses
The Galapagos is often swathed in a low carpet of cloud and mist known as garúa, but when the equatorial sun breaks through it can be dazzling, so sunglasses are a must. Polarised lenses are the way to go, as they will cut out the glare from the surface of the water, making it easier to spot marine life such as turtles, sharks and rays.
4. Dry bags
You'll be spending a lot of time bouncing along the waves on a zodiac (a type of rigid inflatable boat) as you cruise along coastlines and head ashore to the various landing sites, so it's worth taking some dry bags to protect your camera equipment from getting splashed. These are also handy if you're making wet landings, where you disembark on a beach by hopping out of the zodiac into the shallows.
5. Hiking shoes or boots
At some landing sites you'll be hiking up rocky and relatively steep trails, while at others you'll be walking over jagged and uneven lava rock. It's possible to get by wearing trainers, but you'll be more comfortable in a pair of sturdy hiking shoes or boots with good grip, teamed with hiking socks made from a breathable, moisture-wicking material such as Merino wool.
6. Lightweight breathable clothes
The climate in the Galapagos does not vary hugely over the course of the year: average daily minimum temperatures range from 19°C in August and September to 24°C in February through to April, and daily maximums range from 26°C to 31°C. When you're planning your holiday wardrobe, make sure you pack plenty of lightweight breathable clothes: T-shirts or safari-style shirts are best for daytime exploring, along with shorts or hiking trousers. It's best to go for light colours to avoid unwanted attention from wasps.
7. Light jacket or fleece
It can be cooler in the evenings, especially if you're out on deck, so it's worth packing a lightweight jacket or fleece. A light rain jacket is also recommended for rainy days and excursions to areas with a wetter climate, such as the giant tortoise reserve in the highlands of Santa Cruz.
8. Day pack
You'll want a day pack or rucksack for your water bottle, sun cream and other essentials. There's no need to go overboard - a 15 litre pack is plenty big enough. It's also worth bearing in mind that some expedition cruise lines will provide you with a complimentary day pack, so you may not need to bring your own - ask your Mundy Adventures cruise consultant if you're not sure.
9. Sun protection
The Galapagos islands are located pretty much slap bang on the Equator, so the sun can be fierce. Make sure you pack a sun hat and some water-resistant sun cream, and re-apply regularly. Experts recommend an SPF of at least 30, and it's better to use a cream that's fragrance-free to avoid attracting wasps.
10. Water bottle
The Galapagos authorities announced a ban on single-use plastics in April 2018, as part of the global drive to remove plastic from our oceans. You will no longer find plastic bottles, straws or cups on board cruise ships in the Galapagos, so we recommend taking a reusable water bottle - an insulated bottle is best, as this will keep your water cool. Many cruise lines now provide guests with a reusable bottle, which you can keep as a souvenir and use on your next expedition.
11. Insect repellent
Despite their equatorial latitude, you won't actually find a lot of mosquitoes or biting bugs on the Galapagos. Nevertheless, it's still worth packing some repellent, as some of the islands do have a few critters flying around. If you're combining your Galapagos cruise with a land tour on the South American mainland then insect repellent is essential for many destinations, including Machu Picchu, the Amazon and Guayaquil.
12. Seasickness medication
The Galapagos islands are situated way out in the Pacific Ocean, meaning that the seas here are more exposed to currents, particularly around the outer islands. Cruise ships here are small, limited to a maximum of 100 passengers, so you are more likely to feel movement than on a larger ship. A lot of the time the seas are pretty calm, especially in the more central parts of the archipelago, but if you suffer from motion sickness then we recommend packing some medication just in case.
12. Snorkelling gear
The marine ecosystems of the Galapagos are incredibly vibrant, thanks to the nutrient-rich cold currents that well up around the islands. The snorkelling here is fantastic, so if you have your own gear then don't forget to pack it! Most ships will provide the basics - snorkel mask, fins, wetsuit - but you may want to bring extra equipment such as aqua gloves and socks, since the water here can be surprisingly cold. Even if you don't plan on snorkelling, we still recommend bringing your swim suit or shorts in case you want to take a quick dip at the beach or in the ship's Jacuzzi!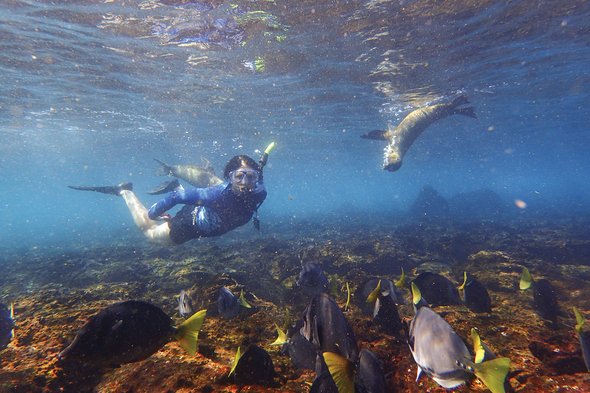 13. Water shoes or sandals
Landings in the Galapagos can be both 'dry', when you disembark at a jetty or pier, and 'wet', when you jump out of the zodiac and wade a short distance through the (normally shallow) water. On sandy beaches it's fine to hop out in bare feet, but your feet will need protection on rockier shores. Make sure you pack some water shoes or waterproof sandals that won't slip off, ideally something suitable for a short hike ashore; Crocs or Teva-style sandals are a popular choice.
14. Something nice to wear on the ship
Expedition cruising is all about the destination, and you'll likely be spending most of your time during the day going ashore on the zodiacs, kayaking along the coast or snorkelling amongst the amazing marine life. The atmosphere on board is laid back and casual, a far cry from the traditional image of cruising, with no requirement to dress up for dinner and certainly nothing resembling a formal night. Nevertheless, you might want to pack something a bit nicer to wear to dinner after an action-packed day of exploring, and certain cruise lines will have a loose dress code in the evening: no trainers, no shorts or jeans, that sort of thing. Also don't forget to take some comfortable shoes to wear in the daytime in between excursions - think flip flops, sandals or deck shoes.
15. Journal
Last but not least, we recommend taking some sort of journal or notebook with you. You're going to see so much in such a short space of time that you might find you've forgotten some of the details when you get home. Which island were you on when you saw those penguins? Which species of Darwin finch did you capture in that amazing photo? How many iguanas did you spot hiding amongst the bushes? Keeping a journal of your trip will preserve those memories, and help you to organise your photos when you get home.
Get your free Galapagos guide
Our Galapagos guide contains everything you need to know about these wonderful islands, including when to visit, how to get there and where to spot the archipelago's most iconic wildlife.