In this article we've highlighted some of our favourite books, films and TV shows exploring this fascinating continent, from the ancient Inca citadel of Machu Picchu to the wilds of Patagonia.
---
Books about South America
South America is a continent with a rich literary tradition, and has inspired some fantastic novels and travelogues. Here are just a few of our favourites...
Mark Adams - 'Turn Right at Machu Picchu'
Mark Adams' bestselling travelogue is a must-read for any budding Andean adventurer. Adams is an American journalist who set out to emulate Hiram Bingham's famous 1911 expedition that 'rediscovered' Machu Picchu, visiting plenty of other spectacular Inca sites along the way. The book is full of fascinating historical detail on both the Incas and Bingham, and the author recounts his own journey with wit and humour.
Harry Thompson - 'This Thing of Darkness'
Longlisted for the Booker Prize in 2005, this action-packed novel tells the story of Robert Fitzroy, captain of Charles Darwin's ship the HMS Beagle. The book is based on Fitzroy's logs, Darwin's journals and other historical accounts, and focuses on the friendship between the two men, against a backdrop of adventure and exploration along the coast of South America.
Paul Theroux - 'The Old Patagonian Express'
First published in 1975, 'The Old Patagonian Express' finds one of the world's greatest travel writers in fine form. Theroux sets off from his home in Boston on an epic journey by train to southern Patagonia, narrated in his characteristically curmudgeonly style. En route he passes through sleepy Central American towns, visits the ancient Inca city of Machu Picchu and meets the novelist Jorge Luis Borges in Buenos Aires, along with plenty of other memorable characters along the way.
Henri Charrière - 'Papillon'
Henri Charrière's autobiography tells the extraordinary story of his escape from the penal colony of Devil's Island in French Guiana, after being imprisoned for a murder that he didn't commit. Published in 1968, the book was an instant hit, and was later turned into a film starring Steve McQueen and Dustin Hoffman.
Mark Bowden - 'Killing Pablo'
'Killing Pablo' charts the rise and fall of Colombia's most infamous drug lord, Pablo Escobar, and provided the inspiration for the hit Netflix series 'Narcos'. This is a story of violence and corruption on an epic scale, both from the cartels and from the government and paramilitary forces arrayed against them. Essential reading for those who want to understand Colombia's recent history, and a reminder of just how far the country has come since the dark days recounted in the book.
Mario Vargas Llosa - 'Death in the Andes'
This haunting story is set in a remote settlement in the Peruvian Andes, and takes place against the backdrop of the Shining Path guerrilla insurgency of the 1980s. The novel centres around a series of mysterious disappearances, and is full of memorable characters and evocative prose, infused with the myths and legends of the indigenous communities who inhabit the mountains.
Jonathan Weiner - 'The Beak of the Finch'
Jonathan Weiner's Pulitzer Prize-winning book is a must-read for anyone visiting the Galapagos, and documents Peter and Rosemary Grant's 40-year study of Darwin's finches on the island of Daphne Major. These remarkable birds tell the story of evolution in microcosm, and Weiner writes in a way that is both accessible and compelling.
---
South America films & TV shows
Cosy up on the sofa with some of our favourite South America-themed films, box sets and TV shows...
Sir David Attenborough's most recent must-watch series is still available on BBC iPlayer, and episode 3 focuses on the wildlife of South America. Highlights include incredible footage of a mother puma hunting guanacos in the mountains of Patagonia.
Biologist and broadcaster Monty Halls moves to the Galapagos with his young family in this endearing and engrossing series, which showcases both the unique natural riches of the islands and the challenges they face.
Five couples compete in a frantic race from Mexico City to Ushuaia - without flying, without smartphones, and with a limited budget. Along the way they visit some of South America's most spectacular highlights, including the Atacama Desert, Lake Titicaca and Iguazu Falls.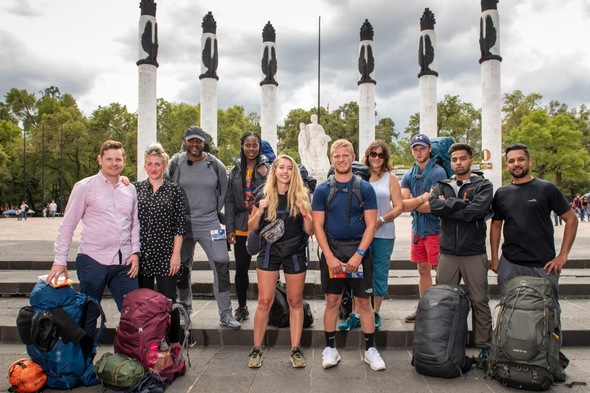 Nearly 20 years on from its release, 'City of God' has lost none of its power to shock. The film is set in the favelas of Rio de Janeiro, and documents the way in which these ramshackle neighbourhoods fell under the sway of violent gangs fuelled by the drug trade. Many of the actors were themselves residents of the favelas, and the film received widespread critical acclaim, nominated for four Academy Awards in 2004.
Walter Salles's beautifully shot biopic stars Gael García Bernal as a young Ernesto 'Che' Guevara, as he sets out on an epic road trip across Latin America with his friend Alberto Granado. Based on Guevara's memoir of the same name and Granado's book 'Travels with Che Guevara', this is a coming-of-age movie rather than an examination of the young Che's politics, though his encounters with indigenous peasants and downtrodden workers clearly influenced his outlook on life.
Get your free Galapagos guide
Our Galapagos guide contains everything you need to know about these wonderful islands, including when to visit, how to get there and where to spot the archipelago's most iconic wildlife.