At Mundy, with over 50 years of experience in the sector, we've watched expedition cruising change almost beyond recognition. New ships from Silversea Expeditions, Seabourn Expeditions, Scenic, Quark, Lindblad, Hurtigurten and more, are raising the bar for curious travellers wishing to roam further and learn more about the planet, and the advancements in AI offer an exciting future.
The cutting-edge focus from the smaller cruise lines, working closely with a wide range of stakeholders including maritime partners and research institutes, means they will lead the way as the whole industry reiterates its commitment to pursue net-zero carbon cruising by 2050.
The recent growth in AI will unlock a whole host of developments in ship design and the onboard experience. As AI finds the most efficient design, the shape of ships will likely shift again, with carbon-neutral power incorporated and controlled by AI in ways never before considered possible.
Image credit: Mundy Adventures AI created future expedition ship concept.
Using big data from multiple construction sectors, ship builders will focus on advancement in materials and building technics to enhance ships as platforms for exploration, with panoramic views from every part of your basecamp for adventure, and open decks with plenty of tools for exploration.
Image credit: Mundy Adventures AI created future expedition guest drone concept.
AI assisted navigation will help plot the most fuel-efficient route, taking into account weather and sea conditions resulting in much smoother sailing. AI controlled stabilisers could improve this still further.
Predictive AI can also assist with itinerary planning to maximise the possibilities of wildlife encounters and ensure safer navigation through sea ice, providing the best chance of making even difficult landings.
As well as navigational safety improvements, AI can monitor and predict potential maintenance issues, making for a safer cruise and reducing minor inconveniences to guests when small technical issues affect equipment.
As a result, expedition ships will assist with scientific data collection and analysis, helping to proactively protect the areas in which they operate. Virtual and augmented reality can be used to help guests understand this research with immersive learning experiences.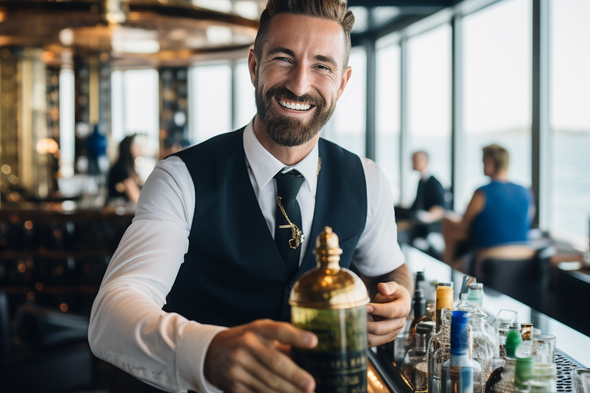 Image credit: Mundy Adventures AI created luxury cocktail bar concept.
AI will be significantly incorporated into the guest experience. AI based interactions will support the highly personal nature of the expedition, freeing up the time of the experienced crew by relieving them of basic organisational requirements, so that the most common and simple of requests, such as landing group times and restaurant opening hours, will be taken care of. This will allow staff to interact more meaningfully with guests, sharing stories of adventure and helping guests spot wildlife.
Expedition operators will also be able to personalise the guest experience to a far greater degree, using AI to analyse the number of guests with dietary requirements on a particular departure to deliver more menu choices for example, or improving service levels based on guest feedback combined with staffing information, and even the weather at the time, to provide extra insights into possible improvements.
Image credit: Mundy Adventures AI created Virtual Reality concept
This enhancement of the human connection rather than simply second-guessing the wants and needs of individuals on the basis of past behaviours, will improve the experience and allow guests to be delighted by authentic interactions, extraordinary surprises and exceptional destinations that take their travel experience to the next level.