As the COP26 climate change conference kicks off in Glasgow, it feels like a good time to look again at the remarkable innovation going on within the expedition cruise sector, which leads the way when it comes to decarbonising maritime operations.
One cruise line that has been making waves recently is Ponant, with the launch of their new ship Le Commandant Charcot, the world's first hybrid-powered luxury icebreaker. This remarkable polar vessel is equipped with a hybrid propulsion system powered by liquefied natural gas (LNG), currently the cleanest maritime fuel available, and a battery bank, with zero emissions when the ship is operating in electric mode.
But it's not just the propulsion system that has been designed with sustainability in mind; the ship's outdoor pool and seating areas are heated using recycled waste heat, and she is equipped with a host of high-spec scientific instruments to carry out vital research in the polar regions. Earlier this month Alex was lucky enough to spend a couple of nights on board Le Commandant Charcot as she prepared for her maiden season in Antarctica - make sure you read his in-depth review to find out more.
Ponant is not the first expedition line to build a hybrid-powered ship, with Hurtigruten's 530-guest sister vessels MS Roald Amundsen and MS Fridtjof Nansen launching in 2019 and 2020 respectively. These ships were developed with the help of funding from the Norwegian government, and their hybrid propulsion system reduces carbon emissions by around 20%. Hurtigruten have also started retrofitting existing ships to run on biofuel, with the re-engineered MS Maud (formerly MS Midnatsol) operating no fly voyages for UK guests out of Dover, sailing to remote corners of the British Isles and as far as northern Norway. Operating on biodiesel reduces CO2 emissions by up to 80% compared with conventional marine diesel.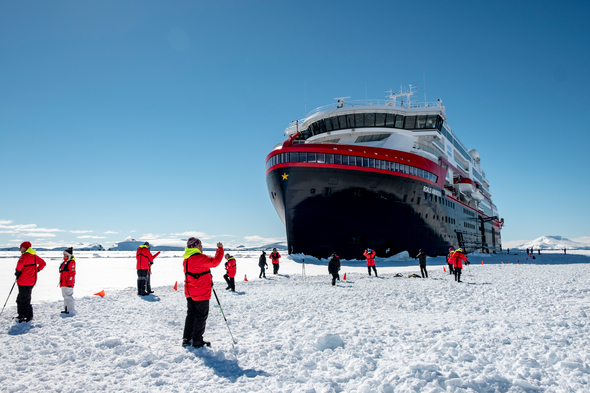 Increasingly we are going to see hybrid and low carbon propulsion as standard in new builds. Silversea have just announced that their next generation of ships, codenamed 'Project Evolution', will use a trio of power sources, with dual fuel engines that use LNG as their main fuel, battery technology, and fuel cells which will allow the ships to operate emissions-free while in port.
Another expedition cruise line focused on sustainability is Aurora Expeditions, who recently achieved 100% carbon neutral certification in partnership with emissions reduction experts South Pole. Aurora offsets its emissions by purchasing carbon credits from climate action programmes that meet the highest international standards, investing in projects such as the InfraVest Tongyuan Wind Farm in Taiwan.
Aurora have also just announced their first Antarctic Climate Expedition in 2023, led by oceanographer, marine biologist, explorer and conservationist Dr Sylvia Earle. This invitation-only climate summit at sea aims to bring together scientists, conservationists and other high-profile delegates, with the aim of developing creative strategies to radically reduce emissions. The 9-day expedition to the Antarctic Peninsula will take place on Aurora's newest ship, the 100-guest Sylvia Earle, named in honour of Dr Earle.
This eye-catching vessel is the second Aurora ship to employ Ulstein's revolutionary X-BOW design, which minimises the movement of the ship by eliminating slamming in heavy seas, reduces noise and vibrations, and results in reduced emissions. Over 100 X-BOW vessels are currently being built or are already sailing around the world, including Lindblad Expeditions' new ships National Geographic Endurance and National Geographic Resolution, plus a number of ships working in the offshore renewables industry.
Last but not least, we have seen the continuing rise of 'citizen science' on board expedition ships, where guests can assist with research in the polar regions, including monitoring the effects of climate change. As well as helping to expand the reach of scientific surveys, this also creates powerful advocates for climate action, as travellers return home with a new-found appreciation for the challenges our planet faces. Read our in-depth article for more information on these innovative onboard programmes.