Journey Type
Cruise only (Please call for flight options)
4 March
Setting sail from King George Island
The relative proximity of King George Island to South America, together with the fact that around 10% of the island is ice-free, means that there are several research stations clustered here, along with an airfield. It's the biggest island in the South Shetlands archipelago, and is also home to the world's most southerly Russian Orthodox church!
5-12 March
Antarctica:

Antarctica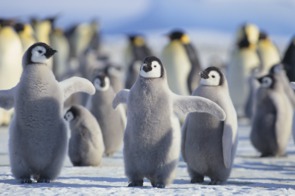 Antarctica is the world's last great wilderness, an alien landscape of snow-covered mountains, steaming pools and jagged icebergs. Visitors will never forget the extraordinary wildlife they encounter here: the seething mass of penguins, swooping albatross, whales gently surfacing and seals sunning themselves on the ice. Expedition trips will spend time exploring the Antarctic Peninsula, make several landings at various sites, cruising through scenic channels and huge flows of ice.
15 March
Arriving in Ushuaia
Ushuaia is sometimes described as 'the city at the end of the world', though its rugged beauty is far from apocalyptic. Perched on the ragged southern edge of Argentina, where the snow-capped Andes fall away into the churning sea, the city has a frontier town feel to it, and serves as the base for expeditions into the icy waters of Antarctica. There are also plenty of outdoor pursuits on offer here, including hiking, skiing and fishing, and the Tierra del Fuego National Park is home to spectacular scenery and wildlife including penguins, guanacos, sea lions and condors.
Don't miss
What can we say? You can't miss anything in the town, it's so small!
Your home from home
The Greg Mortimer is an exciting new purpose-built expedition ship with a revolutionary design, scheduled to join the Aurora Expeditions fleet in time for the 2019/2020 Antarctica season.
What we love
Just take a look at the pictures of this ship - quite different from anything we have seen before with a revolutionary new patented X-BOW design which has a number of benefits. Not only does it increase passenger comfort by eliminating slamming in heavy seas, but also the journey is speeded up so uncomfortable rides in heavy seas are minimised. This also results in environmental benefits, reducing fuel consumption and emissions.
On board, Aurora Expeditions passengers will enjoy the company's established style - a comfortable, friendly and laid-back vibe in the company of like-minded travellers, for whom the time ashore is everything. The focus is on small group exploration, with a commitment to getting off the ship as much as possible for up close and personal encounters with wilderness lands and wildlife.
Capacity
160 Guests
Crew
95 Staff
Style
Relaxed, authentic, cosy - a totally unpretentious and educational experience for true adventurers.
Inclusions

All meals
Shore excursions
Onboard lecture programme
Gumboots on polar voyages
Port taxes

Year Built
2019
Tonnage
8,000 grt
Length
341 feet
Breadth
60 feet
Cruising Speed
15 knots
More about Greg Mortimer
Tailor-make your trip
Ways to make it better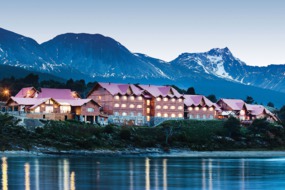 Where to stay in Ushuaia
Los Cauquenes Resort and Spa is your best option, if you have time to stay.
Tours from Ushuaia
What you choose to do on tour will need to supplement whatever cruise you are taking. So if you are heading to Antarctica, whilst here you will want to go to the Tierra del Fuego National Park.