Journey Type
Sailing from Australia
Before you board
One night in Hobart
On arrival in Hobart you will be transferred to the stylish MACq 01 Hotel for an overnight stay, allowing you time to rest and recover after a long flight. The next day you'll enjoy a tour of the city, with highlights including the world-renowned Mona art museum and the Shene Estate whisky distillery. At the end of your tour you'll be transferred to the port in Hobart, where you'll board Le Lapérouse to begin your expedition to the Subantarctic Islands.
2 January
Setting sail from Hobart
Tasmania's capital has been revitalised in recent years with a slew of new museums, restaurant openings and festivals. Hobart's highlights include the provocative Museum of Old and New Art (MONA), the lively waterfront and a thriving foodie and craft beer scene.
6-7 January
Australia:

Macquarie Island
Macquarie Island lies far to the south of mainland Australia, a bizarrely shaped subantarctic island that is home to unique flora and spectacular wildlife. The island is best known for its huge penguin rookeries, with thousands upon thousands of royal, king, southern rockhopper and gentoo penguins.
9 January
New Zealand:

Campbell Island
Campbell Island is one of the most southerly of New Zealand's subantarctic islands, a windswept and seemingly inhospitable place that sustains a surprising diversity of large, colourful plants known as 'megaherbs'. The island is also home to six different species of albatross and three species of penguin.
10 January
New Zealand:

Enderby Island
Enderby Island is part of the Auckland Islands archipelago, a place where native flora and fauna are flourishing following a successful programme to eradicate invasive species in the 1990s. The island is an important habitat for the rare yellow-eyed penguin, and the main breeding location for the New Zealand sea lion.
11 January
New Zealand:

Musgrave Inlet (Auckland Islands)
12 January
New Zealand:

Snares Islands
The Snares Islands are the northernmost of New Zealand's subantarctic islands, renowned for their incredible birdlife. Endemic species include the Snares penguin, Snares snipe and Snares tomtit, and some three million sooty shearwaters come here to breed during the austral summer.
13 January
New Zealand:

Milford Sound
Milford Sound is New Zealand's most iconic sight, a breathtaking fjord crowned by the soaring Mitre Peak. Despite a remote location, on the western coast of the South Island, the fjord attracts thousands of visitors every year, such is the beauty of this raw and unspoilt landscape.
15 January
Arriving in Dunedin
Visitors to Dunedin are amazed by the extraordinary Victorian and Edwardian buildings dating back to the gold rush, which bring to mind the city's Scottish roots - not least when the sound of the pipes echoes through the streets.
Before returning home
One night in Dunedin
After disembarking in Dunedin you will be transferred to the Bluestone on George hotel in the city centre for an overnight stay, giving you some time to explore this quirky little place. Outside the city, the extraordinary natural beauty and wildlife of the Otago peninsula are on hand, home to New Zealand fur seals, Hooker's sea lions, yellow-eyed penguins, and the only mainland royal albatross colony in the world. The following day you will be transferred to the airport for your flight back to the UK via Auckland and Sydney.
Mundy Exclusive
Your fare includes: 13 nights in a Deluxe Stateroom, including all meals, drinks, gratuities and taxes; return flights; FREE 1 night pre-cruise stay at the MACq 01 Hotel in Hobart, including breakfast; pre-cruise tour of Hobart including lunch; FREE 1 night post-cruise stay at the Bluestone on George hotel in Dunedin; FREE overseas transfers.
Your home from home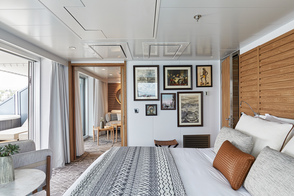 Sleek and stylish, Ponant's wonderful Explorer yachts blend luxury and intimacy with a discreet elegance and tasteful décor.
What we love
Named after six of France's most famous explorers, Le Champlain, Le Lapérouse, Le Bougainville, Le Dumont d'Urville, Le Bellot and Le Jacques Cartier offer exciting and adventurous itineraries in the utmost comfort. Technologically advanced, with the latest in environmentally friendly hardware, the new ships embody Ponant's trademark élan and flair, with just 92 spacious rooms and suites, a stylish pool deck and an intimate, refined onboard ambience.
Capacity
184 Guests
Crew
110 Staff
Style
Refined with a wonderful mix of a modern super yacht and nautical tradition, all with a French flair.
Inclusions

All meals in all venues
Alcoholic beverages
All soft drinks
Tea, coffee and pastries
All onboard entertainment
Unlimited use of the Fitness Centre
Expedition by zodiac on selected sailings
More about Le Lapérouse
Tailor-make your trip
Ways to make it better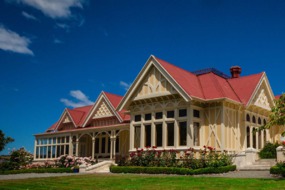 Our favourite hotel near Dunedin
Up the coast at Oamaru, the charming Pen-y-bryn Lodge is a heritage homestead - and perfectly placed to visit the blue penguins!
Explore the South Island
Visit the Catlins Coastal Rain Forest and Curio Bay – next stop Antarctica!