Journey Type
Cruise only (Please call for flight options)
22 June
Setting sail from Roca Leon Dormido
22 June
Ecuador:

San Cristóbal Island
San Cristóbal is the most easterly of the Galapagos islands, home to the provincial capital and second largest human settlement in the archipelago, Puerto Baquerizo Moreno. The fantastic wildlife includes fur seals, boobies and the endangered Chatham frigatebird.
23 June
Ecuador:

Playa Espumilla
23 June
Ecuador:

Bartolomé Island
The summit of Bartolomé Island offers outstanding views of some of the Galapagos archipelago's most spectacular volcanic scenery, including the much-photographed Pinnacle Rock. The island is also home to penguins, sea lions and turtles, with some great snorkelling spots just offshore.
24 June
Ecuador:

Punta Espinoza (Fernandina Island)
Punta Espinoza is home to the largest colony of marine iguanas in the Galapagos, and you will see them draped across the black lava rocks sunning themselves during the day. Other species on Fernandina Island include Sally Lightfoot crabs, sea lions and the rare flightless cormorant.
24-25 June
Ecuador:

Punta Vicente, Bahia Elizabeth, Caleta Tagus
26 June
Ecuador:

Punta Cormorant (Floreana Island)
The name is slightly misleading, as you won't find any cormorants here! Instead you'll discover a wonderful white sand beach where turtles and stingrays swim in the shallows, and a brackish lagoon where vivid pink American flamingos nest.
26 June
Ecuador:

Isla Champion
26 June
Ecuador:

Post Office Bay (Floreana)
Flamingos, cormorants and sea turtles can all be found around Floreana, and the island also has an interesting human history. This is the site of the famous Galapagos 'post office', a barrel where sailors would place letters to be transported home by passing ships.
27 June
Ecuador:

Las Bachas
27 June
Ecuador:

Cerro Dragón (Santa Cruz)
The aptly named Cerro Dragón, or 'Dragon Hill', is known for its population of land iguanas. These creatures were very nearly wiped out by feral dogs in the 1970s, but the conservation efforts of the Charles Darwin Foundation and the Galapagos National Park have been very successful in protecting the iguanas and growing their numbers.
28 June
Ecuador:

Puerto Ayora
Puerto Ayora is the largest town in the Galapagos, on the south coast of Santa Cruz island. From here you can visit the lush highlands where giant tortoises roam free, and you can learn more about tortoise conservation at the Charles Darwin Research Station.
28 June
Ecuador:

Los Gemelos
29 June
Arriving in Baltra
The flat and arid island of Baltra, also known as South Seymour, is home to the Galapagos archipelago's main airport, formerly a US air base. The island is inhabited by wildlife including boobies and frigatebirds, but there are no sites open to visitors, so if you see anything it will only be in passing as you transfer between airport and ship.
Your home from home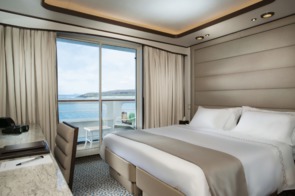 Visiting the Galapagos has to be one of the most magical travel experiences on earth – and to visit on board a ship like Silver Galapagos is surely the icing on the cake.
What we love
The intimate 100 guest Silver Galapagos gives you a supremely comfortable home from home, as you visit places with no tourism infrastructure whatsoever. Without the ship, you simply wouldn't be able to get there. But as it is, you can travel like an intrepid explorer, but without any compromise on comfort.
Capacity
100 Guests
Crew
70 Ecuadorian Staff
Style
This stylish sleek ship offers a warm Ecuadorian welcome and a stimulating programme on board. If you enjoy the finer things in life but have an adventurous spirit, you will find yourself in congenial company on board.
Inclusions

All meals including room service and hot rocks on deck in the evening
All drinks including local wines and spirits
Stimulating lecture programme with expert naturalists from the National Park
All excursions and zodiac rides
Snorkel equipment and kayaking

Voyage DVD

Gratuities
More about Silver Galapagos
Tailor-make your trip
Ways to make it better
Machu Picchu
It's easy to combine your Galapagos cruise with a trip to Machu Picchu, the enigmatic and spectacular Inca city high in the Andes.
Colonial Quito
Spend a couple of days in Ecuador's charming capital, Quito, exploring the beautiful colonial-era churches of the old town.