Journey Type
Cruise only (Please call for flight options)
29 October
Setting sail from Santa Cruz de Tenerife
Situated on Tenerife's north eastern shore, the island's capital is a busy port that serves mostly as a gateway to the popular south west coast and the spectacular volcanic landscapes of the island's interior. There are a few attractions in the town itself, including the tree-lined Ramblas and the strikingly modern Auditorium, designed by Santiago Calatrava, but we wouldn't advise spending too much time in Santa Cruz, particularly in summer when it can get rather crowded. Head instead for the nearby UNESCO World Heritage Site of San Cristobal de la Laguna, Tenerife's former capital and the prettiest town on the island.
Don't miss
Take the cable car to the summit of Mount Teide, for panoramic views of the Canarian archipelago – make sure you book in advance to avoid the queues.
30 October
Canary Islands:

El Hierro
Remote, rugged and barely touched by tourism, El Hierro is the smallest of the Canary Islands. The island has been designated a UNESCO Biosphere Reserve, and the small population is entirely sustained by renewable energy. Highlights include dramatic volcanic landscapes, sleepy mountain villages and some fantastic dive sites.
31 October - 1 November
At sea
2 November
Cape Verde:

São Nicolau
São Nicolau is one of the least known of the Cape Verde islands, and on first glance may appear barren and desolate. However, head inland and you'll discover a lush interior of verdant valleys and soaring peaks, with some great mountain hikes on offer. The island's quaint little capital, Ribeira Brava, is also well worth a visit.
3 November
Cape Verde:

Santiago Islands
4 November
Cape Verde:

Fogo
The island of Fogo is a remarkable sight, a towering and still active volcano where several hundred hardy (or perhaps foolhardy) souls still insist on living inside the crater. The otherworldy volcanic landscape is extremely fertile, and we recommend trying the excellent wine produced here.
5 November
Cape Verde:

São Vicente
The dry and barren volcanic island of São Vicente is home to Cape Verde's most appealing port, the charming city of Mindelo. The cobbled streets and colonial architecture are a real pleasure to explore, and the city plays host to a raucous carnival in February.
6 November
Cape Verde:

Santo Antão
Santo Antão is perhaps the most beautiful of all the Cape Verde islands, a landscape of spectacular peaks and ridges where houses cling precariously to the steep valley sides. The winding mountain roads, which take you up past banana and sugarcane plantations, are not for the faint of heart, but worth it for the stunning views from the top.
13-14 November
Arriving in Bridgetown
There's more to Barbados than just beaches; the delightful colonial architecture of the old garrison in Bridgetown, the capital, is fully deserving of its UNESCO World Heritage status, and the island interior is littered with old sugar plantations and natural wonders such as Harrison's Cave.
Your home from home
The new expedition ships from Hapag-Lloyd, Hanseatic Nature, Hanseatic Inspiration & Hanseatic Spirit, represent the perfect marriage of experience and innovation in adventure cruising.
What we love
The perfect combination of technical expertise and thoughtful design makes these ships stand out as very special additions to the expedition fleet. We are particularly excited that Hanseatic Inspiration will be a totally bilingual ship, showing Hapag-Lloyd's commitment to the English-speaking markets.
Capacity

230 Guests (199 for Antarctic cruises)

Style

Luxury expedition means a fresh and airy décor, great food, service and facilities, alongside technical expertise and 30 years of experience in operating the very best expedition cruises.

Inclusions

All meals
Marina and watersports equipment
Comprehensive lecture programme
Well equipped fitness area
All trips ashore
Gratuities
More about Hanseatic Inspiration
Tailor-make your trip
Ways to make it better
Where to stay in Tenerife
If you are just here for a couple of nights, go for the Laguna Nivaria Hotel and Spa.
What to see in Tenerife
Visit the largest volcanic tube in Europe, the Cueva del Viento, 11 miles in a three-tiered labyrinth of tunnels.
The best place to stay in Barbados
There are so many fantastic hotels to choose from, but the Mundy favourite is Cobblers Cove.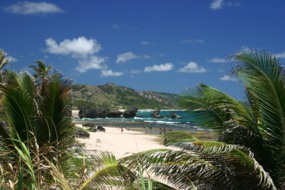 See more of Barbados
This is a lovely island to explore with amazing views, particularly on the East (Atlantic) coast, so get a driver to take you on a circuit.