Journey Type
Cruise only (Please call for flight options)
2 November
Setting sail from Baltra
The flat and arid island of Baltra, also known as South Seymour, is home to the Galapagos archipelago's main airport, formerly a US air base. The island is inhabited by wildlife including boobies and frigatebirds, but there are no sites open to visitors, so if you see anything it will only be in passing as you transfer between airport and ship.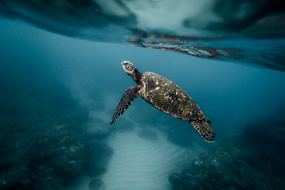 Our tip
Take an underwater camera - the marine life in the Galapagos is spectacular, with sea turtles, penguins, manta rays and more lurking beneath the surface.
2 November
Ecuador:

Daphne Major
3 November
Ecuador:

Bahia Darwin (Genovesa)
The horseshoe-shaped island of Genovesa, located in the northeast of the Galapagos archipelago, is best known for its abundant bird life. Red-footed boobies can be found in significant numbers here, along with storm petrels, frigatebirds, mockingbirds and short-eared owls.
3 November
Ecuador:

El Barranco
4 November
Ecuador:

North Seymour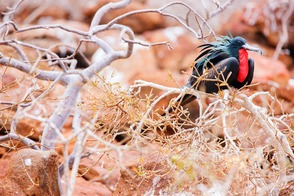 North Seymour island, named after the English nobleman Lord Hugh Seymour, is home to some of the biggest sea bird breeding colonies in the Galapagos. This is one of the best places to see the magnificent frigatebirds, along with blue-footed boobies and land iguanas.
4 November
Ecuador:

Bahia Sullivan
5 November
Ecuador:

Rábida Island
Rábida Island is known for its distinctive red sand beaches, which owe their unusual colour to the high iron content of the volcanic material found on the island. As you come ashore you are likely to encounter sea lions lounging on the beach, along with marine iguanas, brown pelicans and flamingos.
5-7 November
Ecuador:

El Eden (Santa Cruz), Galapaguera Cerro Colorado (San Cristóbal), Punta Pitt (San Cristóbal), Gardner Bay (Española)
7 November
Ecuador:

Punta Suárez (Española)
Española is the most southerly island in the Galapagos, and the remote location means it's home to several endemic species, including the Española lava lizard and the Española mockingbird. In addition, the island is the sole breeding ground for the world's entire population of waved albatrosses, which can be seen here between April and December.
8 November
Ecuador:

Puerto Ayora
Puerto Ayora is the largest town in the Galapagos, on the south coast of Santa Cruz island. From here you can visit the lush highlands where giant tortoises roam free, and you can learn more about tortoise conservation at the Charles Darwin Research Station.
8 November
Ecuador:

South Plaza Island
South Plaza is one of the smallest islands open to visitors in the Galapagos, dotted with prickly pear cacti and home to a wealth of wildlife, including red-billed tropic birds, land and marine iguanas, blue-footed boobies and a large colony of sealions.
9 November
Arriving in San Cristóbal Island
San Cristóbal is the most easterly of the Galapagos islands, home to the provincial capital and second largest human settlement in the archipelago, Puerto Baquerizo Moreno. The fantastic wildlife includes fur seals, boobies and the endangered Chatham frigatebird.
Your home from home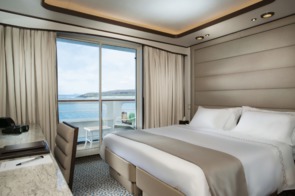 Visiting the Galapagos has to be one of the most magical travel experiences on earth – and to visit on board a ship like Silver Galapagos is surely the icing on the cake.
What we love
The intimate 100 guest Silver Galapagos gives you a supremely comfortable home from home, as you visit places with no tourism infrastructure whatsoever. Without the ship, you simply wouldn't be able to get there. But as it is, you can travel like an intrepid explorer, but without any compromise on comfort.
Capacity
100 Guests
Crew
70 Ecuadorian Staff
Style
This stylish sleek ship offers a warm Ecuadorian welcome and a stimulating programme on board. If you enjoy the finer things in life but have an adventurous spirit, you will find yourself in congenial company on board.
Inclusions

All meals including room service and hot rocks on deck in the evening
All drinks including local wines and spirits
Stimulating lecture programme with expert naturalists from the National Park
All excursions and zodiac rides
Snorkel equipment and kayaking

Voyage DVD

Gratuities
More about Silver Galapagos
Tailor-make your trip
Ways to make it better
Machu Picchu
It's easy to combine your Galapagos cruise with a trip to Machu Picchu, the enigmatic and spectacular Inca city high in the Andes.
Colonial Quito
Spend a couple of days in Ecuador's charming capital, Quito, exploring the beautiful colonial-era churches of the old town.
Mashpi Lodge
A stay at Mashpi Lodge, in the heart of Ecuador's stunning cloud forest, is a luxurious way to extend your trip to South America.
Lake Titicaca
How about pairing your Galapagos cruise with an overland adventure through Peru to Lake Titicaca, perhaps even crossing the border into starkly beautiful Bolivia.