Journey Type
Cruise only (Please call for flight options)
27 October
Setting sail from Montevideo
Located just across the Río de la Plata from Buenos Aires, Uruguay's underrated capital is a cosmopolitan and eclectic mix of colourful colonial architecture and high rise modernity. The 14-mile waterfront promenade, La Rambla, is a popular and pleasant place to be on a summer's evening.
30 October
Argentina:

Puerto Madryn
Founded by Welsh settlers in 1886, bustling Puerto Madryn owes its popularity as a tourist destination to the incredible wildlife of the Península Valdés. From June to December the bay is filled with migrating right whales, and at the beginning of the season the whales come so close to the shore that you can view them from the pier.
1-3 November
Falkland Islands:

Falkland Islands
The rugged and windswept Falkland Islands make for a fascinating stop on the way to or from Antarctica. Over 80% of the population lives in the capital, Stanley, though humans are far outnumbered by other creatures, including penguins, sea lions and albatrosses.
6-8 November
Antarctica:

Antarctica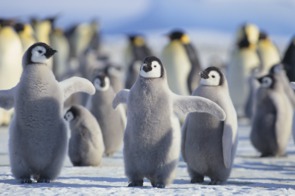 Antarctica is the world's last great wilderness, an alien landscape of snow-covered mountains, steaming pools and jagged icebergs. Visitors will never forget the extraordinary wildlife they encounter here: the seething mass of penguins, swooping albatross, whales gently surfacing and seals sunning themselves on the ice. Expedition trips will spend time exploring the Antarctic Peninsula, make several landings at various sites, cruising through scenic channels and huge flows of ice.
11 November
Arriving in Ushuaia
Ushuaia is sometimes described as 'the city at the end of the world', though its rugged beauty is far from apocalyptic. Perched on the ragged southern edge of Argentina, where the snow-capped Andes fall away into the churning sea, the city has a frontier town feel to it, and serves as the base for expeditions into the icy waters of Antarctica. There are also plenty of outdoor pursuits on offer here, including hiking, skiing and fishing, and the Tierra del Fuego National Park is home to spectacular scenery and wildlife including penguins, guanacos, sea lions and condors.
Our tip
You can finish off your cold weather shopping here, they have all the best stuff.
Your home from home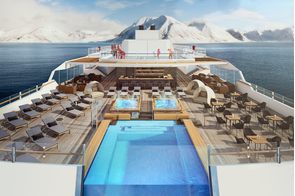 Hurtigruten's pioneering hybrid vessels, MS Roald Amundsen and MS Fridtjof Nansen, will offer a more sustainable way to explore the polar regions.
What we love
Hurtigruten's groundbreaking hybrid technology will reduce fuel consumption and carbon emissions by 20%, a bold step towards a more sustainable future for the expedition cruising industry. The ship is designed specifically for exploring the polar regions, and the inviting suites and public areas represent a significant evolution of the Hurtigruten onboard experience.
| | |
| --- | --- |
| Capacity | 530 Guests |
| Style | These pioneering hybrid ships will offer a contemporary and relaxed ambience, acting as a comfortable 'base camp' at sea. |
| Inclusions | |
More about MS Fridtjof Nansen
Tailor-make your trip
Ways to make it better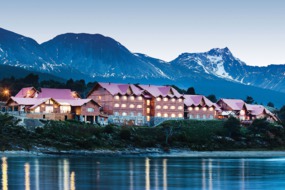 Where to stay in Ushuaia
Los Cauquenes Resort and Spa is your best option, if you have time to stay.
Tours from Ushuaia
What you choose to do on tour will need to supplement whatever cruise you are taking. So if you are heading to Antarctica, whilst here you will want to go to the Tierra del Fuego National Park.