Journey Type
Sailing from Greenland
15 August
Setting sail from Kangerlussuaq
Founded in 1941 as a US Air Force base, Kangerlussuaq is home to Greenland's main airport and a place that most visitors to the country will pass through at some point. The town also offers easy access to the magnificent Greenland Ice Cap, and the surrounding countryside is a great place to see the Northern Lights.
16 August
Greenland:

Disko Bay
Disko Bay is one of Greenland's most spectacular sights, where calving glaciers send huge icebergs floating out across the water. These bergs can be several kilometres in length, and are sculpted into weird and wonderful shapes by the weather. Whatever you do, don't forget your camera!
17-18 August
Greenland:

Upernavik
Upernavik is the northernmost town in Greenland with over 1,000 inhabitants, situated on a bay scattered with islands and icebergs. The Upernavik Museum, the oldest in Greenland, contains an interesting collection of local art, and the region has an interesting Norse heritage, thought to be the northern limit of Viking exploration.
19 August
Canada:

Baffin Bay
20 August
Canada:

Pond Inlet
The small Inuit settlement of Pond Inlet sits at the entrance to the fabled Northwest Passage, on the north coast of Baffin Island. A dramatic landscape of fjords, glaciers and icebergs provides a habitat for wildlife including whales, seabirds, seals and narwhals, the otherworldly 'unicorns of the sea'.
21 August
Canada:

Beechey Island
29-30 August
Canada:

Edinburgh Island (Nunavut), Hershel Island
1 September
United States:

Point Barrow
4-5 September
Arriving in Anchorage
Your home from home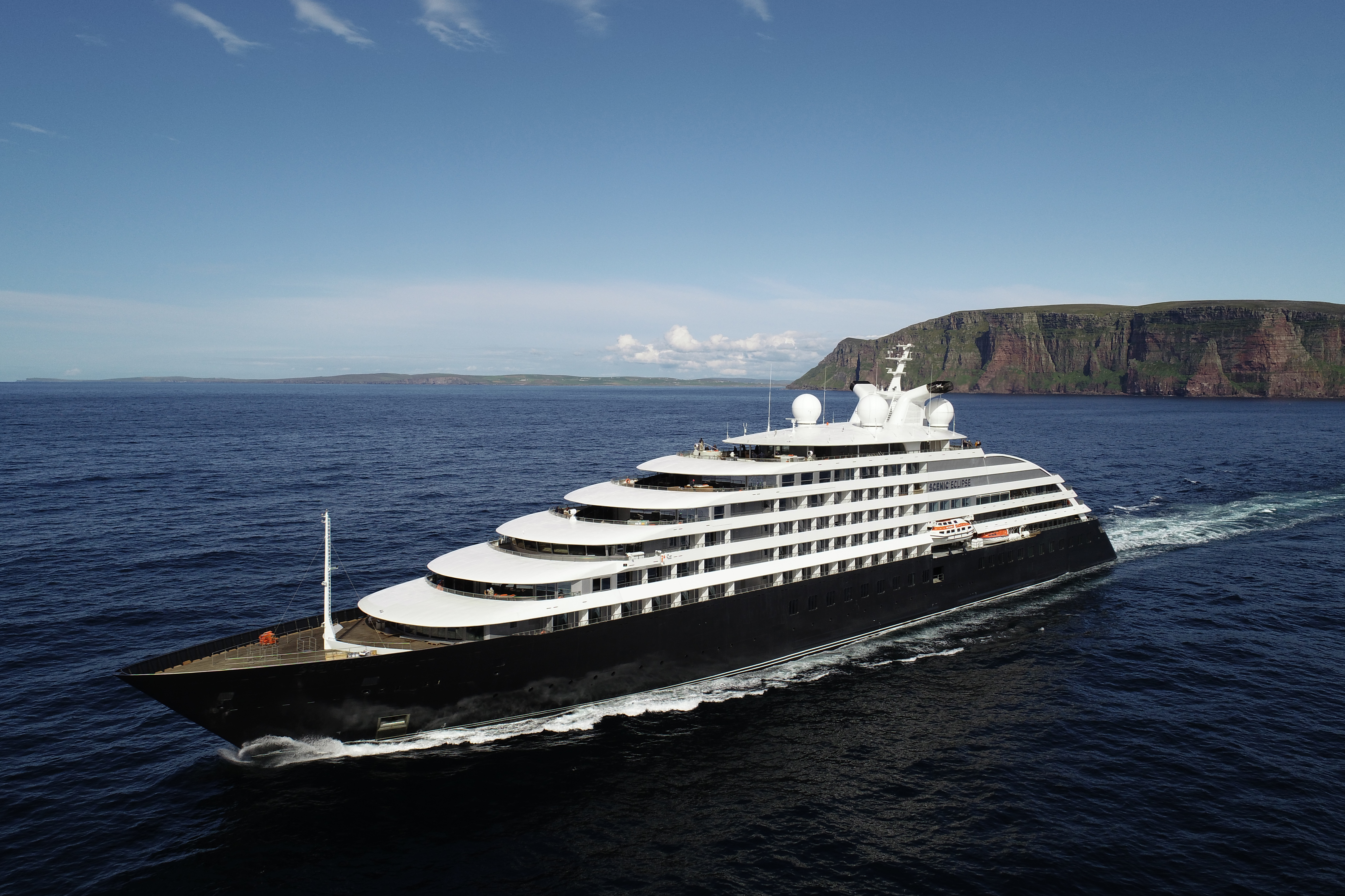 Designed to provide an unrivalled level of luxury, this is the most advanced expedition ship in the world.
What we love
Scenic have gone all out to create the most luxurious, most technologically advanced and most exciting expedition ship ever built. We couldn't be more excited about the advances that this ship represents, and the way it will be able to enhance already thrilling itineraries.
Capacity
228 Guests
Style
Sleek, modern and designed to deliver once-in-a-lifetime experiences, this ship really has it all! The state-of-the-art design provides the perfect combination of luxury and adventure.
Inclusions

All meals
All drinks including wines and premium spirits
Stimulating lecture programme with expert naturalists and guides
Scenic Freechoice Excursions and zodiac rides
Scenic Enrich special events
WiFi
Butler service
24-hour room service
Gratuities

Year Built
2019
Length
544 feet
Breadth
71 feet
More about Scenic Eclipse