As the rugged terrain transport took us the short distance to the tiny pier we had our first encounter with the ship's eight Zodiacs which ferried us to our peripatetic home for the next seven days. That afternoon our expedition leader Robin introduced his multi-talented team: an ornithologist; a marine historian; a naturalist; a marine life guru; as well as an amiable botanist.
The following morning the sun appeared and our first destination of Sisimuit bombarded my senses with a symphony of colour. The bleakness of the Kaellingehaetten mountain was relieved by the brightness of the houses draped across the steep rocky hillside, while wild flowers such as purple harebell added to the vivid pastiche.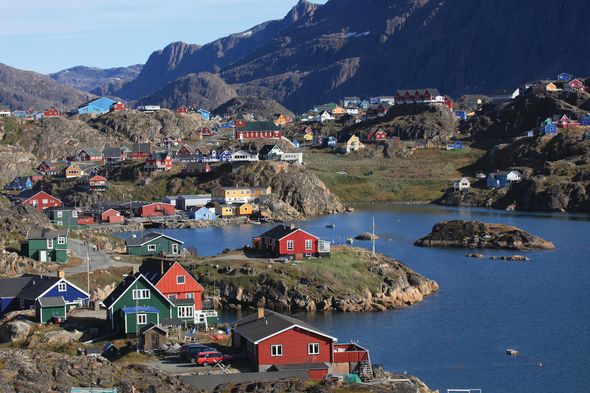 Taking advantage of the fine weather, I lunched with some newfound friends at the outdoor Grill on the sun deck. Sheila was looking forward to being presented with a 500-day pin in recognition of her loyalty.
When I asked her why she loved the ship so much, she considered her answer before uttering, "It's roughing it, in comfort."
No one could dispute this plucky lady's viewpoint. As the Hotel Director explained to me, "People who have taken an expedition cruise before are wowed by Silver Explorer. All cabins have baths; there's butler service throughout; and our inimitable five-star luxury, blended with raw expedition cruising, is unbeatable."
Conveying just 144 guests, although in truth the ship usually sails with no more than 120 due to the high percentage of solo travellers, Silver Explorer truly is a paragon in the expedition cruising world. With a crew of 117, the friendly, personalised service cannot be understated.
The next day offered another vista of sibilant seas and cloudless skies. In the distance skuas hovered around the high basalt cliffs that towered above the village of Qeqertarsuaq. Here I opted to hike to Blæsdal - 'The Valley of the Winds'. It was time to don my bright red weather-proof Silversea Expeditions parka that had been supplied in my size.
During the hike I asked Robin what distinguishes an expedition voyage from a regular cruise.
"The expedition leader takes the role of cruise director - the entertainment content is nature's majesty. It is an active, educational experience," he says. "Passengers revel in their interaction with our onboard experts whose knowledge is encyclopaedic."
Over the next few days the anchor was dropped at the homespun settlement of Qilaqitsoq where an expedition took us to see the gravesite of eight 500-year-old Greenland mummies; Uummannaq where we tasted whale - both smoked and roasted; and Saqqaq, population 134.
One afternoon Robin could hardly contain his delight when two humpback whales appeared in front of the Zodiac. The surface of the iceberg-strewn sea suddenly erupted as mother and calf spouted before arching and fluking. He immediately alerted the other Zodiacs and everyone enjoyed a close encounter of a very special kind. It was a special moment in a cruise overflowing with serendipity.
Another highlight was Ilulissat whose icefjord runs 25 miles from the Greenland ice-sheet to Disko Bay. Here we clambered aboard local boats to get up close and personal with the glacier itself.
During our 2½ hour tour of this icy wilderness, made even more surreal by the omnipresent sun, we glided through canyons of the whitest ice, skirting massive tabular icebergs and smaller floating works of icy art sculpted by nature, illuminated in a spectrum of achingly vivid shades of turquoise.
As a conclusion to my cruise it was a natural tableau of indescribable magic.
---
Find out more: