As we approached the port in Jeddah our view was dominated by a much larger cruise ship that was also docked. It was only as we got our first glimpse of Scenic Eclipse that we truly appreciated her small size in comparison! When Scenic launched Eclipse in 2019 she was billed as the world's first 'discovery yacht', carrying up to 228 guests (200 in the polar regions) and featuring all-suite, all-verandah accommodation, serviced by your own personal butler.
I spent my five nights on board in a Deluxe Verandah Suite with a generously sized bathroom with a large walk-in rain shower, plentiful hanging and storage space, large interactive TV system, fully stocked mini bar and the most amazing king size 'Slumber Bed'. Larger suite options include the Grand Deluxe Verandah, which has a walk-in wardrobe, the Spa Suite, with a stunning bathroom and a sea view from the Jacuzzi, and also Penthouse and Owners Suites which feature a huge wraparound terrace.
After check-in it was time to explore and finally see the yacht for myself. A relaxing afternoon on board gave me the opportunity to see how her deck space would be used in warmer regions. Yes, there is limited outdoor space in comparison to other yachts of the same size, but in no way did this detract from my enjoyment outside. There were sun loungers and chairs on deck 10 by the Panorama outdoor bar, two vitality hot/cold tubs, and the recent addition of luxurious king-size individual cabanas offering welcome shade from the Red Sea heat.
On this itinerary there was no opportunity to experience a helicopter flight, but Eclipse carries two of them and I did get to see them tucked away in the hangar along with the helipad. There is also a submarine, the Scenic Neptune, and other warm water sea toys including jetskis, paddleboards, diving equipment, snorkel gear and waterskis.
On our first full day we visited an uninhabited island in the Red Sea, and this gave me the opportunity to head for the Marina on deck 3 and take a Zodiac over to the beach for a few hours. We enjoyed some great snorkelling over the reef, with an abundance of multi-coloured fish, and it was nice to relax on the beach and just admire the sleek yacht in this stunning setting.
One interesting thing to note was that she was not held in place with an anchor, but with a 'dynamic positioning system' which allows the ship to maintain an exact position using her bow thrusters and Azipods. This not only avoids damage to the sea bed, but also ensures safe landings for the Zodiacs, helicopters and submarine.
Scenic Eclipse offers a truly all-Inclusive experience, with many different dining experiences. Lumière specialises in French cuisine, Elements offers classic Italian, Koko's was incredible for Asian fusion and has a sushi bar, and the more casual Yacht Club serves breakfast and lunch. There is also 24-hour in-room dining available, served by your butler to enjoy in your suite or on your verandah if you prefer.
Cruise tourism in Saudi Arabia is still very much in its infancy, but there is clear potential for the future, and we expect to see Saudi ports featured in more itineraries in the coming years in combination with Egypt and the Suez Canal. Our cruise included a full day trip to the country's first UNESCO World Heritage Site, Al-'Ula, a one-hour flight from the town of Yanbu. I had looked at pictures of Al-'Ula before I travelled, but to be among the first visitors to see the stunning natural rock formations and ancient tombs close up felt like a real privilege. Al-'Ula's old town is undergoing regeneration to prepare it for overseas visitors, and there were a number of small stalls where you could purchase local delicacies including dates harvested in the region.
Back on board, we headed to the theatre to relax with a drink after sailing from Yanbu. Reclining chairs make for a very comfortable experience with bar service while enjoying some of the low-key entertainment on offer. On a true expedition itinerary, it would be in the theatre that you can listen to expert guides and speakers telling you everything you need to know about the destinations you're exploring. The Scenic Lounge and Bar is also a very popular choice for either a pre- or after-dinner drink to catch up with your new friends and share the stories of your day.
Other facilities on board include the stunning Senses Spa and the Observation Lounge, which is home to the library and was always a nice quiet spot. If you enjoy yoga and Pilates there is also a range of classes which are all complimentary during your cruise.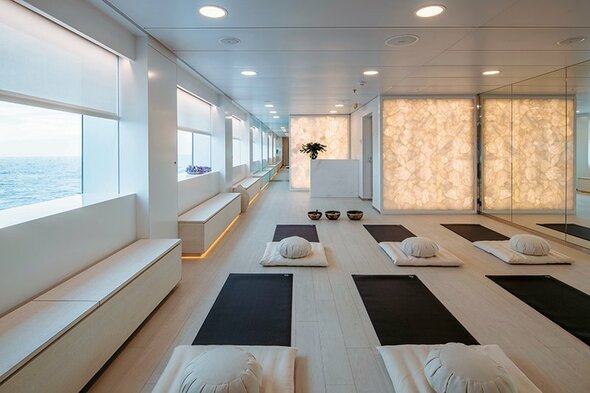 Scenic Eclipse is a fantastic ship no matter where you travel or in which climate, and you will always be in very safe hands, not only with the crew but on the ship with all of her safety features and state-of-the-art technology. In Antarctica she will aim to sail further south than many other expedition ships, while in warmer climates she will travel to destinations you may not have even thought to discover by sea.
Her sister yacht, Scenic Eclipse II, is expected to debut in spring/summer of 2023, and although we are yet to have official confirmation of her inaugural season, the plan is for her to explore Asia and Australasia, including the Great Barrier Reef. Watch this space!