A tour of the Galapagos is unlike any other cruise you can take - it's a geography lesson, safari, adventure holiday, photography workshop and conservation project all rolled into one. It's a chance to explore an extraordinary landscape and get up-close to its weird and wonderful inhabitants: stringent rules governing the world's most pristine national park mean you will be in groups of no more than 16 people, no matter which company you travel with.
I was lucky enough to travel with Lindblad Expeditions, who have pioneered eco-tourism in the Galapagos since 1967 and operate two ships in the region all year round. As soon as our plane touched down in Baltra, the tone was set for the trip… sitting casually in the middle of the runway was a land iguana, seemingly unperturbed by our arrival. Over the course of the week, all my expectations were surpassed as we were constantly surrounded by animals I had cautiously hoped to spot "once or twice".
The lovable sea lions are of course a firm favourite with everyone. The pups are naturally inquisitive and playful, so when you are relaxing on the beach it's important to keep one eye on your belongings or they might well steal a shoe! Although they waddle very ungracefully on land, in the water it's a different story, something which you can really appreciate as you snorkel or kayak next to them. When we visited "civilisation" on Santa Cruz island, we saw how the sea lions had adapted to the man-made environment. While town councils in other parts of the world might complain about loutish teenagers hanging around on a Friday night, in Puerto Ayora it's the sea lions who deserve the ASBO - holding up traffic as they trundle across the main road, occasionally barking at each other, as well as brazenly stealing food from the fish market.
One of the most breath-taking moments happened while we were ashore at Fernandina, the youngest of the Galapagos Islands which is home to literally thousands of marine iguanas. While we were busy stepping over the mass of spiny tails, listening out for their characteristic sneeze, the shout of "orca!" suddenly went up. Our guide was sceptical - orcas are rarely seen in the area - but on closer inspection he agreed that yes, the fin that we could see a few hundred metres away did indeed belong to a killer whale. It was circling and moving erratically, which we were told was probably a sign that it was trying to drown some prey. I think everyone's hearts dropped when we realised that one of the cute sea lion pups we had been photographing earlier was now being turned into lunch!
I would recommend the Galapagos Islands to anyone, from keen birdwatchers to families and everyone in between. They are a magical place that will re-ignite your sense of wonder at the natural world… it has to be seen to be believed!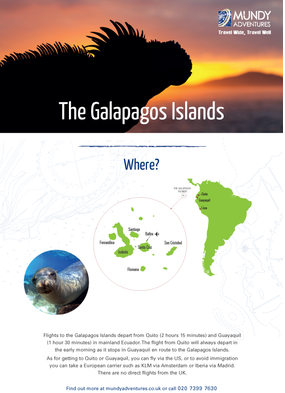 Find out more about the Galapagos...
Our Galapagos guide contains everything you need to know about these wonderful islands, including when to visit, how to get there and where to spot the archipelago's most iconic wildlife.