But in fact there are plenty of extraordinary places to visit within a relatively short distance from the UK. Add to that the opportunity to travel on some the newest, most technologically advanced ships, enjoying a high level of comfort, and you have a list of irresistible expeditions, some of which are bound to make their way to the top of your bucket list.
1. The Gulf of Bothnia with Ponant
Ponant's groundbreaking luxury expedition vessel Le Commandant Charcot unveiled a unique Arctic winter programme for 2024/25, featuring voyages to Norway, Svalbard and the Baltic Sea, offering an alternative experience to destinations often visited by cruises in the summer months. In December 2024 you can explore the lesser-travelled Gulf of Bothnia, with visits to the snow-covered landscapes of Swedish and Finnish Lapland for snow-shoeing, hiking and dog-sledding.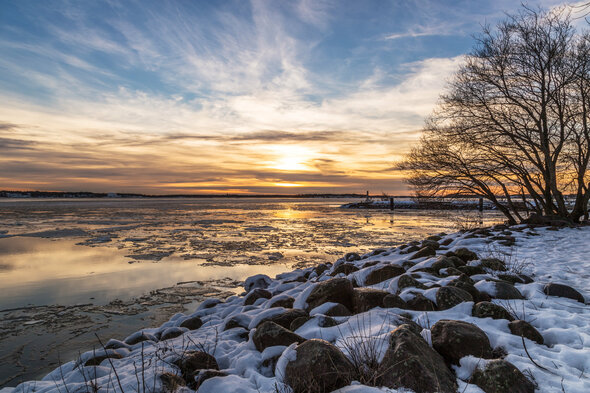 2. The Azores with Lindblad Expeditions
Explore the Azores in April 2024 and 2025 with Lindblad Expeditions who offer 8-night itineraries from Ponta Delgada. While it's a little tricky to travel to, flights operate via Porto or Lisbon so you can break the journey with a night or two en route. Your adventure takes you to 7 islands of the Azores and you can expect history, incredible volcanic landscapes and opportunities for whale watching and birding, all from the first new-build polar vessel in Lindblad's 50-year history, the 138-guest National Geographic Endurance.
3. Scotland to Svalbard with Quark Expeditions
Travel to Aberdeen to join Quark's Ultramarine in April 2025 as she sets forth to visit remote Fair Isle and the rugged Faroes, before setting a course for one of the world's most rarely visited islands, Jan Mayen, with its breathtaking volcano. If you are lucky enough to land you will have enjoyed a rare privilege, before sailing on to explore the icy Svalbard archipelago.
4. The British Isles with Silversea Expeditions
In May 2025, the magnificent Silver Endeavour with her 220 guests sails between Edinburgh and Portsmouth on two itineraries visiting lesser known islands and hidden gems of the British Isles, the perfect way to explore the history, wildlife and rugged beauty of our own home. Explore the National Trust-protected Farne Islands and remote St Kilda, known for its vast colonies of puffin and gannet, as you sail our stunning coastline.
5. Iceland with AE Expeditions
With a revolutionary patented X-BOW design, AE Expeditions' second expedition vessel Sylvia Earle offers a comfortable and speedy ride, reducing fuel consumption and emissions. Departing Reykjavik on 21st May 2024, you will complete a circumnavigation of the 'Land of Fire and Ice' discovering vast lava fields, magnificent fjord systems, towering cliffs and incredible wildlife, plus cross the Arctic Circle with a visit to Grímsey Island.
6. Northern Norway & Svalbard with Seabourn
Seabourn's first purpose-built expedition ship, Seabourn Venture, sails from Tromso in June 2024 to explore the northernmost reaches of Norway before setting course for the Arctic. Visit Bear Island and the Svalbard archipelago for several days of flexible exploration with your expert expedition team in search of walrus, polar bears and more.
Get your free Arctic guide
Our expedition cruising guide to the Arctic will tell you everything you need to know, including when to visit, what to see and how to get there.
7. The Northern Lights with Hurtigruten
Throughout the winter's dark, from January to March 2024, Hurtigruten's Maud will sail from Amsterdam on a special winter expedition cruise under the Northern Lights. See the best of Norway's coastline and take part in exciting excursions to really discover this winter wonderland. Visit fascinating fjords and tiny coastal villages to get close to the authentic heart of Norway.